rgb(140,198,63)
Press Release
09 June 2021
100 Businesses Pledge to increase vegetable consumption across the UK
Transparent reporting becoming a vital tool in transforming the food system in lead up to COP26 
100 major retail, manufacturing and hospitality businesses have signed up to the Peas Please initiative to increase veg consumption and deliver a more sustainable and healthy food system across the UK 
Now in its fourth year the Peas Please partnership is working to encourage clear and transparent reporting as a vital part of delivering change in the lead up to COP26 in Glasgow in November 
Major retailers and manufacturers Tesco, Waitrose, Coop, Lidl, Mars Food, Sainsbury's and Henderson's Group/SPAR NI have all renewed their pledges and will be encouraging veg consumption through marketing, in store promotions and by increasing the vegetable content in their product ranges 
The Association of Convenience Stores commit to promote the new Healthy Start vouchers now worth £4.10 and drive uptake among vulnerable families 
7 major retailers have now also pledged to increase value of the Healthy Start vouchers  
The 99th and 100th pledgers are the University of Stirling and Ulster University Business School who will be serving and promoting more vegetables to students 
Blackpool Catering Services have also pledged to increase total veg served across their portfolio of 26 schools by 10% 
Veg intake remains a huge problem in Britain, with 80% of adults and children failing to eat enough2 
Low consumption of vegetables and pulses is associated with 21,000 premature deaths each year3 
21st April 2021 – The Peas Please project, which works to make vegetables more appealing, accessible and affordable for everyone now has 100 major businesses pledgers signed up.  Since the project launched 3 years ago it has delivered  162 million additional portions of vegetables into our food system working across all 4 nations. 
This represents 80% of UK retailers now committing to major initiatives to help drive up vegetable consumption across the UK. The ambitious targets for veg sales and procurement are vital to increase vegetable consumption and is a main focus of the work of the Food Foundation and partners Food Sense Wales, Nourish Scotland and Food NI in the lead up to the United Nations Food Systems Summit in September and COP26 in November. It shows a real commitment from retailers and food businesses to move towards clear and transparent reporting on vegetable sales which is seen as a vital part of transforming the food system to be more sustainable and provide healthy food for everyone.  
The retailer and food business pledges include: 
Image
The 99th and 100th Pledgers to sign up to the initiative are Ulster University Business School and the University of Stirling who will be serving and promoting vegetables to their students to increase consumption.  This is vitally important as we know 95% of teenagers currently don't eat enough veg.      
Blackpool Catering services have also pledged to increase the amount of veg served across their portfolio by 10% and Swperbox in Wales is the first meal kit delivery service to sign up to Peas Pleas with a pledge to include at least 2 portions of veg in every meal.     
The renewed pledges follow five Peas Please pledgers (Tesco, Sainsbury's, Waitrose, Co-op and Lidl) committing to add value to the government's Healthy Start voucher scheme as part of supporting the Marcus Rashford End Child Food Poverty Taskforce and their Peas Please commitments. In total, seven UK retailers added value to the voucher scheme for young pregnant women and low income families with children aged under four, offering coupons or topping up the value of the vouchers for fruit and veg and other essentials in the interim period before the value increased this April. 
Image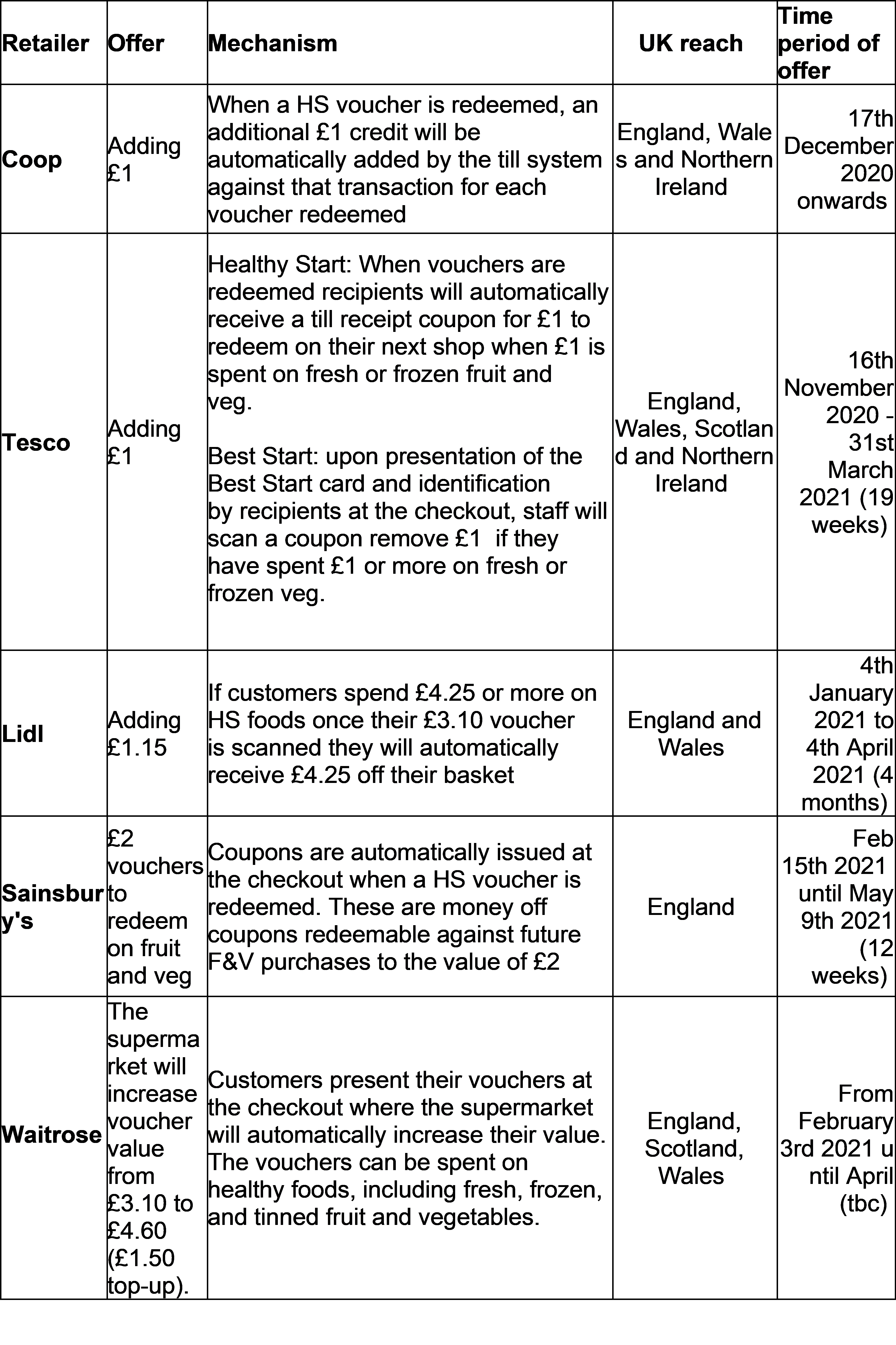 This year's Annual Veg Summit will be held on the week of 14th June 2021.   
Quotes   
Anna Taylor, Executive Director the Food Foundation said: 'It is great to see 100 major food businesses commit to increasing veg consumption to support better health for millions of people.  Transparent and regular reporting against targets is vital if we are to turn the tide on our current dietary crisis and see future generations face a better and healthier future with everyone having access to an affordable and sustainable diet.  
Joanne Lunn, Health Manager at Waitrose, said: "We're committed to helping our customers make healthy choices and are proud to have signed up to the Food Foundation's Veg Pledge. We have lots of activity in place to inspire our customers, including exciting veg-based recipes, tips and advice, as well as Cookery School classes and events."   
Blackpool Council's Cabinet Member for Schools, Education and Aspiration, Cllr Kath Benson, said: "We are extremely proud to make the Peas Please pledge to help improve the lives of children living in Blackpool. By 2023, our catering services aim to increase the amount of vegetables procured across our schools' portfolio by 10 per cent. We will do this by developing our menus and recipes, offering children more vegetables five days a week, as well as refining our meat-free options. Improving school dinners guarantees that children in Blackpool are receiving at least one healthy, balanced meal a day. It is imperative we do everything we can to ensure they are getting the nutrients they need for their growth and development, which will ultimately support their ability to learn. We believe that educating children on food from a young age will help them to make healthier choices later on in life." 
Notes to Editors 
Peas Please Progress Report 2019 
Veg Facts, Food Foundation 2016 
Institute of Health Metrics and Evaluation, 2016. Country Profile: United Kingdom 
Please contact:
Social media 
@Food_Foundation  
@nourishscotland  
@foodsensewales 
@belfastfoodnet  
@food_NI  
@VegPowerUK  
@PeasPleaseUK 
#PeasPlease 
About Peas Please  
A trail-blazing initiative focused specifically on veg, Peas Please aims to bring together farmers, retailers, restaurant chains, caterers, processors and government departments with a common goal of making it easier for everyone to eat veg. Committed to collaborative working, Peas Pease is led by project partners the Food Foundation, Nourish Scotland, Food Sense Wales, Food NI, and Belfast Food Network who have secured engagement and support from over 150 organisations in cities, business and Governments across the UK to bring about change to the whole food system to improve people's health and wellbeing. For more information about the Peas Please, please visit www.foodfoundation.org.uk/peasplease.    
The partnership is funded by the National Lottery Community Fund, the largest funder of community activity in the UK, who have made this work possible. 
About The National Lottery Community Fund  
We are the largest funder of community activity in the UK – we're proud to award money raised by National Lottery players to communities across England, Scotland, Wales and Northern Ireland. Since June 2004, we have made over 200,000 grants and awarded over £9 billion to projects that have benefited millions of people. We are passionate about funding great ideas that matter to communities and make a difference to people's lives. At the heart of everything we do is the belief that when people are in the lead, communities thrive. Thanks to the support of National Lottery players, our funding is open to everyone. We're privileged to be able to work with the smallest of local groups right up to UK-wide charities, enabling people and communities to bring their ambitions to life.