Image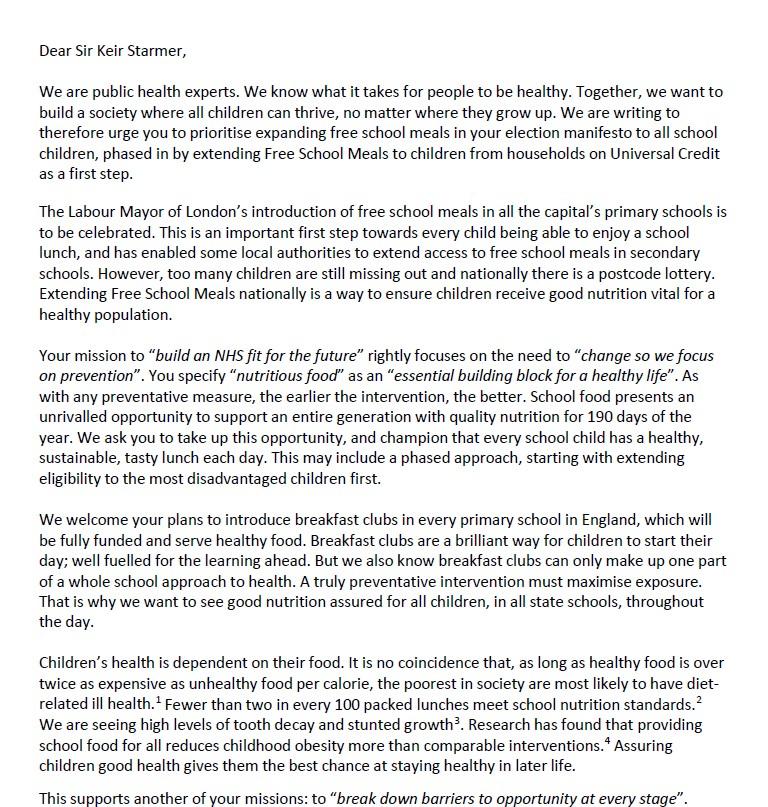 Health leaders call for Labour and Conservative school meals manifesto pledge
Healthcare professionals, royal colleges, health charities and celebrity doctors, have come out in support of the Feed the Future campaign by writing to both the Labour and Conservative leaders while at party conferences urging them to prioritise increasing access to Free School Meals in their election manifestos.
Adam Kay (author of This is Going to Hurt') and Chris Van Tulleken (author of Ultra-processed People) added their voices to 24 healthcare professionals and organisations, including Dr Camilla Kingdon, President of the Royal College of Paediatrics and Child Health, William Roberts, Chief Executive of Royal Society for Public Health and Professor Kevin Fenton, President of the Faculty of Public Health.
They are calling on both leaders to extend the eligibility of Free School Meals to all school children, prioritising children from households on Universal Credit as a first step.
The letters argue that ensuring all children receive good nutrition is vital for a healthy generation, pointing out that far too many children suffer from tooth decay, obesity and stunted growth – especially those from low-income communities.
The letters make a convincing argument based on research showing that providing food for children at school reduces childhood obesity more than comparable interventions.
The letters are being sent to the two leaders at a critical time when Labour politicians are gathering in Liverpool and Conservatives have just met in Manchester at their respective party conferences to set out their visions for leadership ahead of the general election next year.
So far, neither Labour nor the Conservatives have committed to extending Free School Meals nationally – although the Lib Dems have.
The letter follows one signed by dozens of celebrities like Kate Winslet and Olivia Coleman backing extension of Free School Meals last week showing wide support for the policy change.