rgb(243,64,71)
News
05 July 2022
Breadline Voices: Some parents have sold their belongings to buy food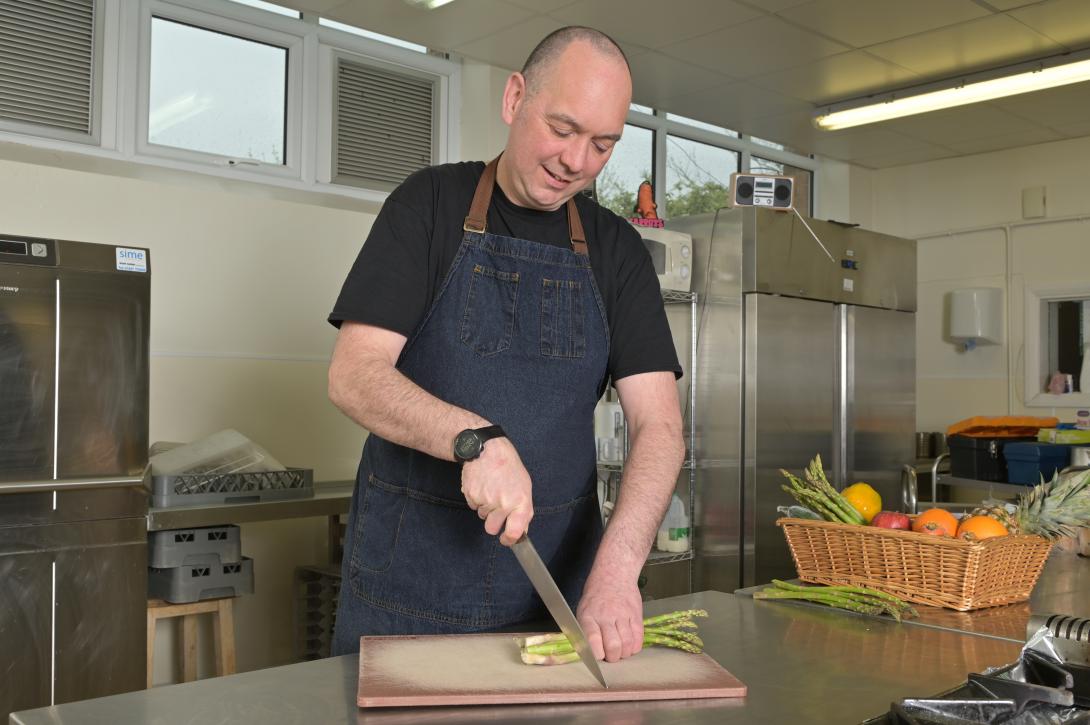 Matthew Knight is catering manager at Hillstone Primary School in Shard End, Birmingham, where more than 50% of children receive free School meals. He asked parents and carers how price rises in fuel and food are affecting everyday life and their ability to put a good meal on the table for their families.
'Helen' describes the difficulties of copying with rising food and fuel costs:
"Each week I face a choice of a) go hungry or b) top up the electric meter. I make sure there is enough food for my children and I probably skip eating two days of a week most weeks to make everything last.
"It's not easy to provide healthy meals either, I can cook food such as a frozen pizza in 10 minutes; but a Sunday roast dinner which involves use of the oven for an hour or more uses an awful lot of electricity I can't afford.
"I have sold personal items to have money for food before."
'Tracy' makes the case for Free School Meals for all children:
"School dinner prices are not affordable for my family so I provide my children with a packed lunch Monday to Thursday then pay for Friday's school dinner as a treat as it's cheaper to provide packed lunch."
Many parents and carers are going without so their children do not - 'Steve' and 'Karen' explain:
"Trying to feed four children, my biggest worry is I'll run out of money in the last two weeks before l receive any more.
"Once the bills are paid there's not much left for food and the same food shop I always do now costs almost double.
"You cannot buy much food with your money anymore and I've found trying to put together whatever food I have left to feed my children with is not much."
'John' and 'Hazel' highlight the stress and anxiety that comes with the rising costs:
"I am a disabled father of four. We struggle each week to put food on the table. We have a young child with eating problems, we have a child with attention deficit hyperactivity and two more that love their food which means in this house mealtimes are very challenging.
"The extra pressure of worrying you won't be able to feed your children is a challenge in itself. The cost of my shopping keeps jumping weekly. I notice 10p on several items each week.
"I get anxious when I'm at the tills wondering if I'll need my credit card or not."
'Jo', 'Gary' and 'Emma' say even people whose incomes are deemed too high for government assistance are struggling:
Jo: "I gradually see my food cupboards and fridges being empty for longer. I find myself going without meals, just so my children get theirs.
"I have also found just lately I live day by day. I buy food daily so I can pay weekly for things like my gas and electric which are pre-payment metres.
"My kids are having frozen food a lot more as it's cheaper. Meals cooked from scratch are now a weekly thing, being a Sunday dinner.
"Fresh fruit is pears and apples - things like strawberries and grapes are way to expensive. I never really thought inflation would affect me directly, but it really has - not just with food, but with energy prices and fuel."
Gary: "We are a family of six and we have noticed a huge change. We are having to shop less frequently as its costing twice as much and we find we need to keep on going back to the shops to top up our food shop which has had a knock-on effect with us not being able to pay other bills, which in turn leaves us in debt.
"This affects our mental health as we are constantly worrying where the next penny is coming from.
Emma: "Finances are always tight as it is, but the cost of living has sent food prices through the roof, meaning our food budget has been impacted and doesn't now stretch to cover our usual food shop for the month.
"We are finding ourselves as the parents eating less and going without so that the children can eat a varied and nutritious diet.
"Poor quality processed foods are cheaper than healthy fresh alternatives too causing even more difficulty to provide a healthy balanced diet when we are limited in income.
Hillstone Primary School's pastoral care manager said: "I have seen a growing number of families from our school, that need food bank vouchers on a regular basis and it is not only impacting low-income families. The cost of living crisis is impacting everyone.
"The food bank charities require more detail if families need more than four vouchers in six months, I am finding that some families need food bank vouchers as often as every two to three weeks.
"I collected food from a food bank for one of our families the quality and quantity was substantial, however, the parent lacked the skills to be able to make it last as long as possible and she also lacked the cooking skills to make use of all of the food that was provided.
"In order to help this family further and to ensure their food went as far as possible I gave the parent some easy food recipes to follow.
"From a personal point of view, I am a two-parent family with two children, my husband and I have good paid jobs, but we are even seeing the impacts of the food crisis".
Matthew Knight added: "An extension of free school meals to all children attending school, return the £20 uplift in Universal Credit and energy companies shouldering their share of the burden.
"Things are bad now for working class people and the situation has been made worse by political decisions made in the past.
"In 1979 the people of the UK owned all the power companies and households were able to survive on one wage. In France, energy prices have risen much less as the French public still own the gas and electric companies and they work for the people and not for profits for bosses.
"Here energy and supermarket bosses are handed mega bonuses after making record profits. They should shoulder the pain of higher wholesale costs instead of ordinary people.
"Supermarkets also should, instead of protecting their profits take the hit just like they took the extra profit made during the pandemic.
"Sixty-six per cent of adults think the government should provide all primary school children with a free hot meal.
"This will help tackle the cost of living increases and guarantee that all our children have access to at least one nutritious hot meal a day. In the United Kingdom in 2022 is this really too much to ask?"
* Some names have been changed.

This is part of Breadline Voices, a series from The Food Foundation highlighting the realities faced by millions of families plunged into food and fuel poverty as food prices reach a 40-year high.