rgb(247,147,30)
Press Release
09 July 2022
Top WHO official headlines international summit on sustainable food futures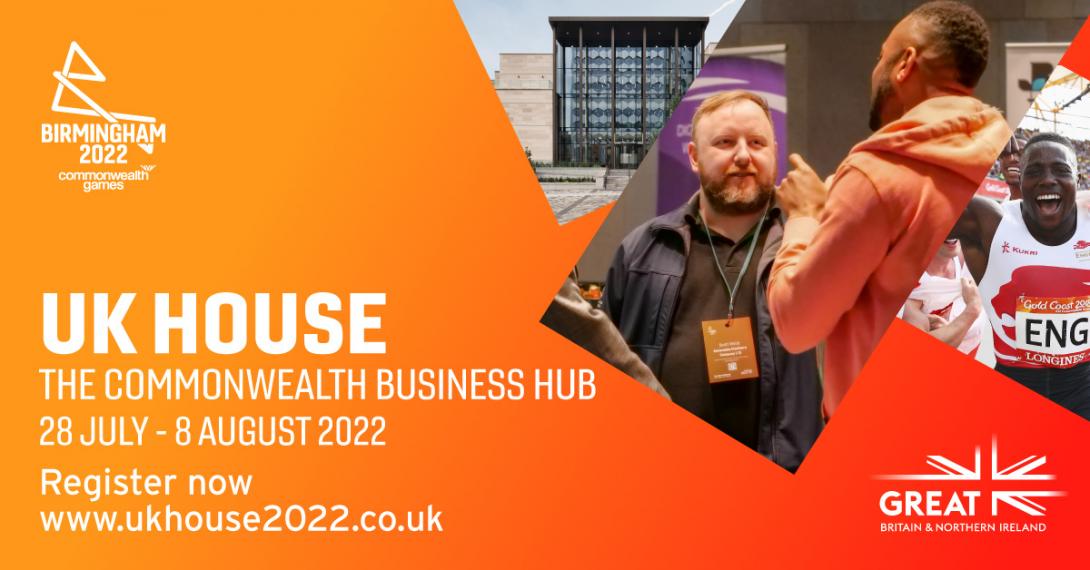 A major trade summit focussed on healthy and sustainable food futures will take place at UK House: The Commonwealth Business Hub, during the Birmingham 2022 Commonwealth Games on Thursday 28 and Friday 29 July 2022. 
The two-day food and drink programme will address:
Sustainable food systems in global cities  
How supply chains and skills can address global food challenges 
International trade and investment opportunities for UK SMEs 
Building on the cooperative spirit of the Commonwealth Games and the UK's climate leadership at COP26, UK House is a platform to bring together business and government leaders to discover opportunities for international partnership and innovations for sustainable growth.
The Commonwealth Food Futures 2022 Summit at UK House, on Thursday 28 July, will be attended by representatives from 22 international cities in The Food Foundation network, including Birmingham. Registration is open to UK and international cities, government officials and policy makers.
Confirmed speakers include: 
Dr David Nabarro CBE, Strategic Director, 4SD and Co-Lead, Food Workstream, UN Global Crisis Response Group 
Cllr Maureen Cornish JP, Lord Mayor of Birmingham 
Leyla Kazim, Presenter, BBC Radio 4 Food Programme  
Anna Taylor, CEO, The Food Foundation 
On Friday 29 July, UK-based food and drink SMEs interested in growing their business through export are invited to discover international trade opportunities with Department for International Trade.
Delegates will hear from government and sector experts and have the opportunity to discuss solutions to any problems they are likely to encounter. 
Anna Taylor, Executive Director of The Food Foundation, said: "We're excited to be part of this unique opportunity to consolidate our international partnerships and share knowledge of food planning policies which reduce levels of poor nutrition and promote food supply strategies to minimise environmental and climate damage.

"The ambitious food and drink supply chain initiatives being developed in Birmingham's eight-year programme will inspire other cities in Britain and around the world."
A spokesperson for the Department for International Trade said: "A global need for sustainability, food standards and innovation provides an opportunity for UK SMEs to share their knowledge, skills, technology and high quality products to the world.
"UK House provides an unparalleled platform to begin an export journey, to discover market opportunities, to hear success stories and to learn about the support DIT can offer."
Cllr Maureen Cornish JP, Lord Mayor of Birmingham, said: "The Birmingham Food System Strategy is an ambitious eight-year approach to creating a food system and economy where food choices are affordable, nutritious and desirable for all citizens.
"We look forward to welcoming our international colleagues to the West Midlands to share best practice and find out how we can work together to deliver healthier food futures."
Keith Stokes-Smith, Chairman of Birmingham Commonwealth Association and of the 10-member local consortium contributing to the event said: "This two-day event will establish a sustainable platform that will support the creation and continuation of business-to-business exchanges between food and drink SMEs across Birmingham and Commonwealth cities.
"Key Commonwealth partners across the food and drink eco-system have been identified and shown support towards SMEs, providing them with the opportune moment to exchange best practice, knowledge and innovation whilst also opening up channels for trade."
Generating revenues of more than £105bn, the UK's food and drink industry is the biggest manufacturing sector in the country and accounts for 20% of all UK manufacturing.
Ensuring the nation's food security against challenges such as sustainability and obesity has led the industry to create bold, innovative solutions, ready to share with the world.
The West Midlands has a well-established food and drink sector, home to around 1,000 food and drink HQs with a total of 50,000 companies that make up the whole Midlands supply chain.
Birmingham City Council and The Food Foundation are developing new policies around urban food planning, procurement, and distribution.
Working with a network of Commonwealth and global partners and initiatives such as the MILAN Pact and Food Cities 2022, it is creating opportunities for SMEs, research organisations and NGOs to help create a healthier, fairer, and more sustainable food system. 
Hosted by the UK's Department for International Trade, in partnership with the region's official economic development agency, the West Midlands Growth Company, UK House takes place at The Exchange – the University of Birmingham's city centre community engagement hub.
The event is part of the Business and Tourism Programme (BATP), the first programme of its kind aligned to the Commonwealth Games.
Senior policy-makers and SME business leaders are invited to register now to attend in person or online via www.ukhouse2022.co.uk  
BATP is sponsored by E.ON, Airbnb, Reckitt, University of Birmingham, Bruntwood and Gowling WLG. 
Notes to Editors
Birmingham 2022 Commonwealth Games  
The Birmingham 2022 Commonwealth Games will be the biggest sporting and cultural event to be staged in the UK for a decade, and it will be the largest event ever held in the West Midlands region. Source: BATP.   
In July 2022, Birmingham will host the XXII Commonwealth Games, the largest multi-sport event to be held in England for a decade. Approximately 6,500 athletes and team officials from 72 nations and territories across the Commonwealth will come together in a 12-day celebration of sport and culture. Events will take place across Birmingham and the West Midlands, entertaining more than one million ticketed spectators and reaching a global broadcast audience of more than one billion.
The Business and Tourism Programme (BATP)  
The UK House is part of the Business and Tourism Programme (BATP), designed to attract more investment, trade, visitors, events, businesses and students to Birmingham, the West Midlands and the UK. The programme will leverage the global profile generated by the Birmingham 2022 Commonwealth Games to highlight the wealth of opportunities and experiences available in the region and the UK. An accredited Games programme, it has been developed by a partnership of regional, national and international organisations, all aiming to maximise the benefits that the Commonwealth Games will bring – and generate economic growth.
A coalition forged across government, the private sector and regional agencies has brought together national and regional expertise to deliver the programme activity. The West Midlands Growth Company (WMGC), the Department for International Trade (DIT), the Department for Digital, Culture, Media & Sport (DCMS), the West Midlands Combined Authority (WMCA), and VisitBritain are working with the Organising Committee for the Birmingham 2022 Commonwealth Games and the Commonwealth Games Federation (CGF) / Commonwealth Games Federation Partnerships (CGFP) to deliver the BATP.