rgb(140,198,63)
Press Release
28 September 2023
School pupils call for extension of Free School Meals during MP meeting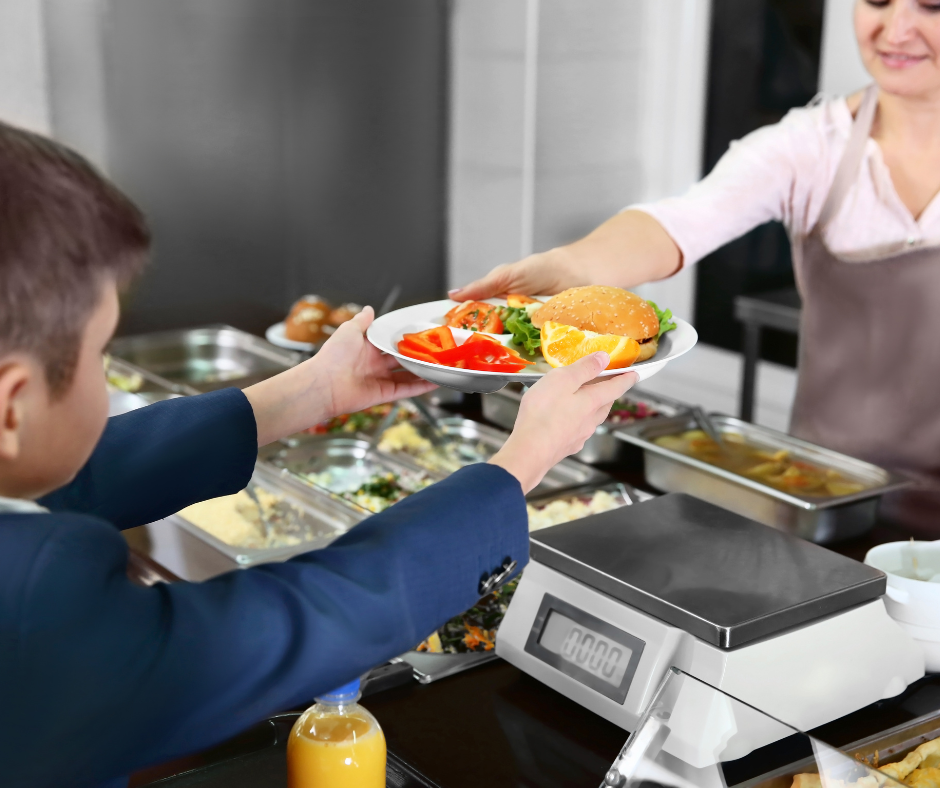 Ahead of party conferences, local MP visits The Halifax Academy as students call for extension of Free School Meals
Yesterday (Wednesday 27th September), students from The Halifax Academy welcomed Holly Lynch, MP for Halifax, to join them in their canteen for a school meal.
Seven of The Food Foundation's Young Food Ambassadors met with the MP over lunch to discuss the importance of school food and to raise awareness of their call to all political parties to priortise extending Free School Meals at lunchtime to more children in their General Election manifestos.
The Food Foundation's Young Food Ambassadors wanted to highlight the fact that while children in state-funded primary schools in London are now eligible for a Free School Meal from September 2023 for one year, children across the rest of England are missing out in a postcode lottery.
They also put forward that the Liberal Democrats have committed in their manifesto to extending Free School Meals.
Recent polling showed Free School Meals is an election issue with a staggering 82% of prospective Labour voters and over half of prospective Conservative voters (53%) in favour of extending free school meals immediately to all children from families receiving Universal Credit, followed by a future expansion to all school children(1). 
There are 900,000 children living in poverty (2) in England who are missing out on national eligibility for Free School Meals due to the strict threshold set by government – a 'queue' of children which in reality would stretch 342 miles, more than the distance from London to Edinburgh.
Outside of London, only children from households with an income below £7,400 a year (after tax, before benefits) are eligible; a threshold that has not increased since 2018.
This is despite inflation reaching an all-time high in the last 12 months and the most deprived families continuing to feel the impact of the cost of living crisis most acutely.
The Young Food Ambassadors are part of the #FeedtheFuture campaign, which calls on politicians from both sides to extend access to Free School Meals to all school children, with the first step being to immediately target children from families receiving Universal Credit.
With election manifestos being written in the coming weeks and months, the young people's message is for Free School Meals not to be forgotten.
Laiba Mahmood, 15 from Halifax, a Young Food Ambassador for The Food Foundation and one of the group meeting with Holly Lynch, said: "I am extremely passionate about expanding the Free School Meals eligibility.

"I believe that everybody deserves good food, but this is especially true for children who need a hot healthy meal to help them concentrate in class in order and do well at school.

"I want every single child in the UK to receive Free School Meals.

"However, every huge goal needs to be broken into smaller steps, so we are asking politicians to increase the eligibility threshold so that every child from a household receiving Universal Credit gets a Free School Meal.

"After that, the aim is that every child in the UK receives Free School Meals. I intend to see this goal come to life."
Matt Perry, head teacher at Halifax Academy, said: "Since the pandemic and with the cost of living crisis, more and more families are struggling.

"Surely it is a moral imperative that we feed and support those that need it?

"Without simple, basic needs being met, there is no way that students can thrive and be the very best they can be.

"We are incredible proud to be part of this campaign and support children up and down the country who just need a little bit of help and a warm meal everyday."
Zoe McIntyre, Advocacy Manager at The Food Foundation, said: "It's so important for young people to be listened to by politicians about policy decisions that affect their lives both now and in the future.

"We know from the brave young food ambassadors we work with day in day out just how important Free School Meals are for their nutrition, education and wellbeing.

"But currently the policy just isn't fit for purpose and too many children are missing out on these benefits across the country.

"It's really brilliant that Holly is coming to hear directly from young people on this important issue – we hope that young people are listened to and politicians from all sides prioritise Free School Meals in the next election."
FOOTNOTES
(1) https://public.flourish.studio/story/2015406/embed#slide-0
(2) This figure is based on the number of children who miss out on national schemes in England, it does not include local or regional Free School Meal initiatives. Free School Meals: Third of kids on poverty miss out.
NOTES TO EDITORS
Please contact: Juliet Grant on 07929 075489 or email juliet.grant@foodfoundation.org.uk
The research was commissioned by the School Food Review Working Group and conducted by Public First. 3,011 members of the public across England were surveyed from 27th June-4th July 2023. The results are weighted by interlocking age & gender, region and social grade to Nationally Representative Proportions. 
Polling and data visualisation available here.
AVAILABLE FOR INTERVIEW
Zoe McIntyre, Advocacy Manager, Children's Right2Food, The Food Foundation.
The Food Foundation Young Ambassadors are available for interview on request.
SOCIAL MEDIA
Twitter: @Food_Foundation 
Instagram: food.foundation
The Food Foundation Podcast
For more in-depth analysis and lived experience listen to our podcast
About the Food Foundation
The Food Foundation is a charity working to influence food policy and business practice, shaping a sustainable food system which makes healthy diets affordable and accessible for all. We work in partnership with researchers, campaigners, community bodies, industry, investors, government and citizens to galvanise the UK's diverse agents of change, using surprising and inventive ideas to drive fundamental shifts in our food system. These efforts are based on the continual re-evaluation of opportunities for action, building and synthesising strong evidence, convening powerful coalitions, harnessing citizens' voices and delivering impactful communications.        
Registered Charity Number 1187611.
About Feed the Future campaign 
#FeedtheFuture 
Last year, a new campaign - Feed the Future - was launched to urgently address the issues of food insecurity for families and to tap into the economic growth opportunity. The campaign is led by a coalition of organisations including The Food Foundation, Impact on Urban Health, Bite Back 2030, School Food Matters, CPAG, Chefs in Schools, the National Education Union (NEU), Save the Children, Children's Society, Jamie Oliver Ltd and Sustain. The coalition calling on both the Conservative and Labour parties to commit to nationally expanding the eligibility to all children.