rgb(244,203,218)
Press Release
23 November 2021
Hear the rallying calls of global youth activists as they challenge world leaders at COP26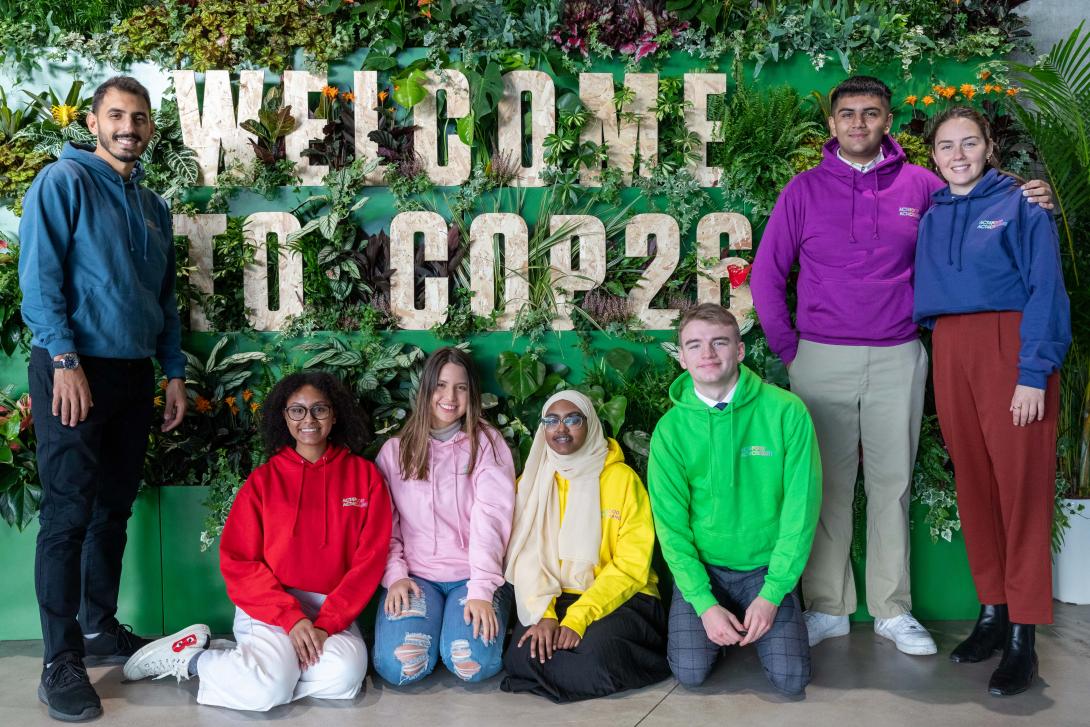 Hear the rallying calls of youth activists from around the world who took to the streets of Glasgow to demand food systems change and climate justice, as negotiations happened behind closed doors.
In the latest episode of The Food Foundation's award-winning Right2Food Podcast, we give listeners a unique access-all-areas pass to the real heartbeat of COP26.
In a mix of exclusive interviews, audio-diaries and event content, we follow youth leaders from Nicaragua, Lebanon, Brazil, Canada, Nigeria, Glasgow and beyond as they unite to ask world leaders – "why are we not talking about food at COP?"
In the latest Right2Food podcast, you will hear the inspiring stories of the #Act4Food #Act4Change Youth Leaders who attended COP26 as delegates, panellists, observers, and food activists.
As world leaders took centre stage in Glasgow, #Act4Food #Act4Change Ambassadors joined hundreds of thousands of young people in the streets. Their message was loud, and it was clear: food plays an integral role in climate change. If we are to fight the climate crisis, it is integral that we address the way we produce and consume food. This podcast is essential listening for anyone with an interest in sustainability and the role food has in creating a better future for our planet.
In a range of passionate speeches and interviews the Youth Leaders speak with politicians, business leaders, as well as an exclusive interview with the COP26 caterers to hear about their commitments on creating a sustainable menu. They also speak with celebrity filmmaker and founder of Earthrise Studio – Jack Harries as well as actress and model Arizona Muse about the climate crisis. Other topics discussed include food waste, plant-based diets, regenerative farming, accountability and loss and damage compensation and much more.
"There are human beings behind these negotiations" were the rallying cries of Youth Leader Bernis Cunningham who spoke on the devastating effects of an increase of hurricanes in his home country Nicaragua, caused by changes to global climate.
This podcast delivers a sense of urgency, but also a sense of hope. Young people from around the world are fed up with false promises and they're not ready to accept the future handed to them by their governments. They will take to the streets to make tangible, positive change.
 
QUOTES FROM THE PODCAST
Bernis Cunningham, Nicaragua, Act4Food Act4Change Youth Leader said:
"And I will tell you why I have hope. Because I know all these young people, I know how hard they work. I know that we will launch, and we will go to the streets to make this change. If the politicians don't want to make the change that will not stop us. Because we believe in a better society, we believe in a better future. And we are optimistic, we are not just complainers. 
But we're not going to do it just in the policy space where it's failing. We're going to go to the streets to campaign with education, building wealth, getting better, healthier food for kids. So, we are activated. And we have a dream of a better world. And we're going to work to get that dream done."
Yumna, Act4Food Act4Change Youth Leader said:
"Young people can come together and mobilise and really put pressure on the government and say "listen, we really believe in this, we believe our food system is broken and we need to do something fundamental to change it." 
We need to change people's mindsets about the food system. And we will continue to pester the government, we'll continue to put pressure on them. We do want to work with government, we do want to work with businesses and industry. But young people's voices have to be taken seriously, and directly invited within in policymaking."
Jamie Crummie, Too Good To Go said:
"Food waste accounts for 10% of the world's greenhouse gas emissions, which means that if food waste was a country, it would be the third largest greenhouse gas emitter after the US and China. It's also a huge financial problem. Food waste costs the global economy $1.2 trillion every single year. It's mind boggling – and, to try and put that 1.2 trillion into context, that's the gross domestic product of the of the 15th largest global economy in the world: Mexico. So, we're spending more on throwing food away, and I'm smiling because it really is shocking, than the entire GDP of large member states."
Rayan Kassem, Lebanon, Act4Food Act4Change Youth Leader said:
"Why aren't food systems included in the nationally determined contributions of countries? Changing our diets, and having nature-positive food production will spare land to the application of nature based solutions, which will benefit indigenous communities, biodiversity and the climate. This is what we will be advocating for."
Ryan McShane, Glasgow, Act4Food Act4Change Youth Leader said:
"I've always said that "people make Glasgow" - the more people here the better. COP26is going to shed a light on why Glasgow is a great city and why the people here want to make climate change the biggest and most pressing issue. Generally in Scotland, our Government have some of the most world leading targets on climate change. We want to be net zero by 2030 with further targets by 2045. Its great that the UK are hosting it and most of it's in Glasgow!"
Dev Sharma, Leicester, Act4Food Act4Change Youth Leader said:
"Food systems haven't really been mentioned at this COP directly. Food systems make up approximately 30% of our global emissions. If we don't tackle food, we don't tackle climate change."
NOTES TO EDITOR  
Please contact: 
Raf Bogan – 07891286340 / [email protected]
SOCIAL MEDIA  
Twitter: @Food_Foundation @Act4FoodGlobal
Instagram: @food.foundation @act4food
#Act4Food #Act4Change #Right2Food