rgb(244,203,218)
Press Release
08 November 2023
1.1 billion additional portions of veg sold as food industry players take action to support healthier diets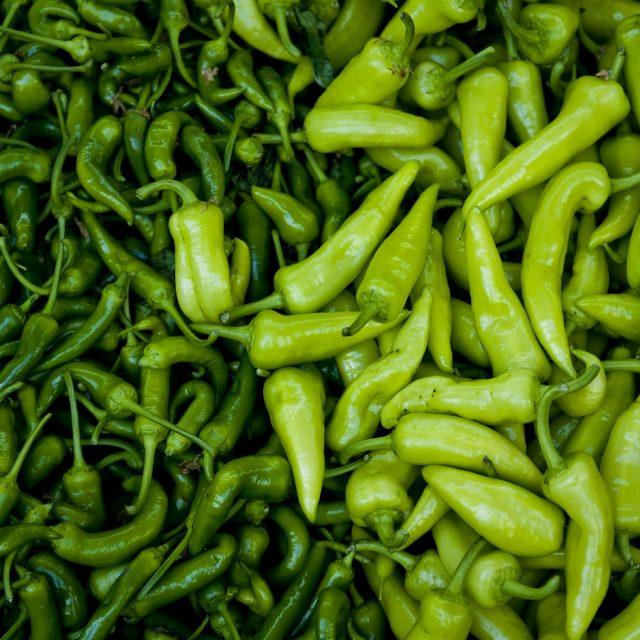 1.1 billion additional portions of veg sold as food industry players take action to support healthier diets  
Yesterday, Peas Please Prizes were awarded at the Peas Please Veg Summit, held at City Hall in London, as key players from across the food system gathered to celebrate the people and businesses taking action to create a food system where healthier food is more accessible.
The event was hosted by The Food Foundation, with eco chef Tom Hunt presenting the awards.
The Peas Please project launched in 2017 with a clear mission to make it easier for everyone in the UK to eat more veg. Since then, 110 organisations, from restaurant chains, caterers and manufacturers to growers and retailers, have committed to veg pledges that support the public to be able to access more veg.
Pledges have included everything from boosting the amount of veg contained in ready meals to serving more veg options on children's menus.
Since the launch, and announced during yesterday's Veg Summit for England, food industry pledgers have delivered an additional 1.1 billion portions of vegetables into the food systems across England, Scotland, Wales and Northern Ireland.
Yesterday's awards focused on achievements in England, with Veg Summits taking place in each country throughout November hosted by the Peas Please partners (Nourish Scotland, Food Sense Wales, Nourish NI and Food NI). 
Data shows that 12% of adults, 23% of 11-16 year olds and 29% of 5-10 year-olds eat less than one portion of veg a day.
Although the 5-a-day message has been widely communicated, with estimates that up to 90% of individuals are aware of the message, average intake remains stubbornly below the recommended amount.
The cost of living crisis has worsened inequalities in veg consumption, with a Food Foundation survey of 10,000 adults in January 2023 finding just under half of households experiencing food insecurity reporting buying fewer vegetables.
A more recent survey in March/April from Veg Power found that 11% of all households claim to have bought fewer vegetables recently, with the effect most pronounced in lower income households.
Where household income is less than £30,000, the figure rises to 14% - and jumps to 17% in families earning under £20,000 per annum.
Vegetables are the golden thread connecting diets that are both healthier and more sustainable, and there would be huge benefits for our health, the environment, and the UK's economy if we were all able to hit the recommendations for vegetable consumption.
Over the last 4 years, the Peas Please initiative has grown in momentum with over 110 pledgers from across the food sector, including 94% of the retail grocery market share, now taking small steps to help people eat more veg.
Transitioning UK diets towards more sustainable and healthy dietary patterns should be firmly on the political and corporate agenda as we get closer to the UN's 2030 Sustainability Development Goals.
With vegetables playing an important role in supporting both human and planetary health, the original Peas Please mission remains as relevant as ever going forward.
Anna Taylor, Executive Director at The Food Foundation said: "In the past many healthy eating campaigns have failed because they have tried to increase consumption by focusing solely on education.

"However, we know that for real change to happen at scale we need meaningful action that makes vegetables and veg rich foods more available, appealing and affordable. This needs both businesses and policymakers to play a part.

"With a real lack of action from policymakers on health and the environment, we are glad to see businesses and organisations acting for change.

"Through Peas Please, industry players have taken steps towards a healthier, fairer and more sustainable food system.

"There is still a lot more to do but the Peas Please Prize Winners demonstrate what can be achieved with clear targets and concrete action."
The Peas Please Prize Winners 2023
Peas Please Pledger Champion (Recognising organisations who have effectively implemented Peas Please pledges as a core part of their business proposition, including Peas Please in their company reporting, or linking their pledges to company and staff performance appraisal.)    
Winner: Sainsbury's
Sainsbury's was the first pledger to set a sales-based target; a publicly reported target to increase the proportion of total vegetable sales across their business by 1%. They have been encouraging customers to increase veg consumption by utilising a varied range of tactics and incentives:  
The Great Fruit and Veg challenge encourages customers to make healthier choices by offering them the chance to earn more nectar points when they purchase more fruit and veg. 2023 is the fourth year Sainsbury's have run this challenge, with 88 million more portions of fruit and veg purchased during last year's challenge.
Sainsbury's have provided £2 top up coupons that families receiving the Government's Healthy Start Scheme can spend on fruit and veg between 2021 and 2023. They have worked with Leeds Institute for Data Analytics and IGD to analyse the impacts on shopping habits, finding a significant increase of fruit and veg purchased year on year.   
Their Imperfectly Perfect and Greengrocer ranges – as well as their Taste Me Don't Waste Me pilot - offer fruit and veg at price points that are accessible to more customers.
Peas Please Individual Champion (Recognising an outstanding individual contribution by a staff member within one of our participating pledger organisations which has given inspired leadership to their organisation's Peas Please pledge). 
Winner: Nicky Martin, Compass Group
Nicky has really championed Peas Please internally at Compass Group, leading on a whole new approach to data and analysis internally designed to improve how accurately Compass are able to monitor and track the amount of veg in their meals. Compass Group have also led the out of home sector in setting ambitious targets for increasing the amount of veg procured.
Runner Up: Amanda Whatley, HC3S
Veg-O-Meter Prize (Rewarding the biggest percentage increase in vegetable portions sold or served by our pledgers between the 2019/20 and 2022/23 reporting cycles)  
Winner: Blackpool Catering 
Awarded for having the biggest percentage increase in vegetable portions sold or served between 2019 and 2023 at a whopping 300% increase from baseline. 
Runner up: Tesco (200% increase from baseline)   
Peas Please Innovation Prize (Recognising inspirational and innovative schemes to support organisational Peas Please pledges and our overall mission of boosting veg consumption.) 
Winner: Tesco
Tesco not only successfully committed to reformulating their range of ready meals to boost the veg content – contributing to a huge number of additional portions of veg being eaten by households – but also launched a new Meat & Veg mince range containing 30% veg to support families to increase their veg consumption. The range was developed in response to increasing customer demand for healthier, sustainable and convenient products.   
Runner Up: Greggs 
Karen Poole, Head of Healthy and Sustainable Diets at Tesco, said: "We know that finding new ways to add more vegetables into diets is important and we're proud of our ongoing Peas Please Pledge to increase the proportion of veg in our ready meals through reformulation and new product development.

"We also continue to encourage customers to pick up more fresh veg through our Fresh 5 deal, which features affordable and seasonal everyday veg.

"Our recent healthy diets report shows that these little helps are really starting to make a difference with our customers."
Bethan Tempest, Healthy & Sustainable Diets Manager at Sainsbury's, said: "In 2020 we reset our health commitments, where we set a target to increase our healthy and better for you sales tonnage as a proportion of total sales. Our aim is to achieve at least 85 per cent by 2025, currently sitting at 81.2 per cent.  

"Fruit and vegetables are at the core of a healthy and sustainable diet and essential for driving these business ambitions.

"The Peas Please initiative has helped solidify this focus through encouraging the transparency of and target setting for vegetables sales. The initiative has also provided an opportunity for those across the sector to learn from each other."
NOTES TO EDITORS
Please contact Juliet Grant on 07929075489 or email juliet.grant@foodfoundation.org.uk
AVAILABLE FOR INTERVIEW
Rebecca Tobi Food Foundation senior business and investor engagement manager
Interviews with winners available on request 
SOCIAL MEDIA
Twitter: @Food_Foundation
Instagram: food.foundation
ABOUT PEAS PLEASE
A trail-blazing initiative focused specifically on veg, Peas Please aims to bring together farmers, retailers, restaurant chains, caterers, processors and government departments with a common goal of making it easier for everyone to eat veg. Committed to collaborative working, Peas Pease is led by project partners The Food Foundation, Nourish Scotland, Food Sense Wales, Food NI, and Nourish NI who have secured engagement and support from over 150 organisations in cities, business and Governments across the UK to bring about change to the whole food system to improve people's health and wellbeing. For more information about Peas Please, click here
The partnership is funded by the National Lottery Community Fund, the largest funder of community activity in the UK, who have made this work possible. 
ABOUT THE NATIONAL LOTTERY FUND
The partnership is funded by the National Lottery Community Fund, the largest funder of community activity in the UK, who have made this work possible.  
ABOUT THE NATIONAL LOTTERY COMMUNITY FUND
We are the largest funder of community activity in the UK – we're proud to award money raised by National Lottery players to communities across England, Scotland, Wales and Northern Ireland. Since June 2004, we have made over 200,000 grants and awarded over £9 billion to projects that have benefited millions of people. We are passionate about funding great ideas that matter to communities and make a difference to people's lives. At the heart of everything we do is the belief that when people are in the lead, communities thrive. Thanks to the support of National Lottery players, our funding is open to everyone. We're privileged to be able to work with the smallest of local groups right up to UK-wide charities, enabling people and communities to bring their ambitions to life.
ABOUT THE FOOD FOUNDATION
The Food Foundation is a charity working to influence food policy and business practice, shaping a sustainable food system which makes healthy diets affordable and accessible for all. We work in partnership with researchers, campaigners, community bodies, industry, investors, government and citizens to galvanise the UK's diverse agents of change, using surprising and inventive ideas to drive fundamental shifts in our food system. These efforts are based on the continual re-evaluation of opportunities for action, building and synthesising strong evidence, convening powerful coalitions, harnessing citizens' voices and delivering impactful communications.