News
17 May 2022
UK Retailer Index 2022 published by ATNI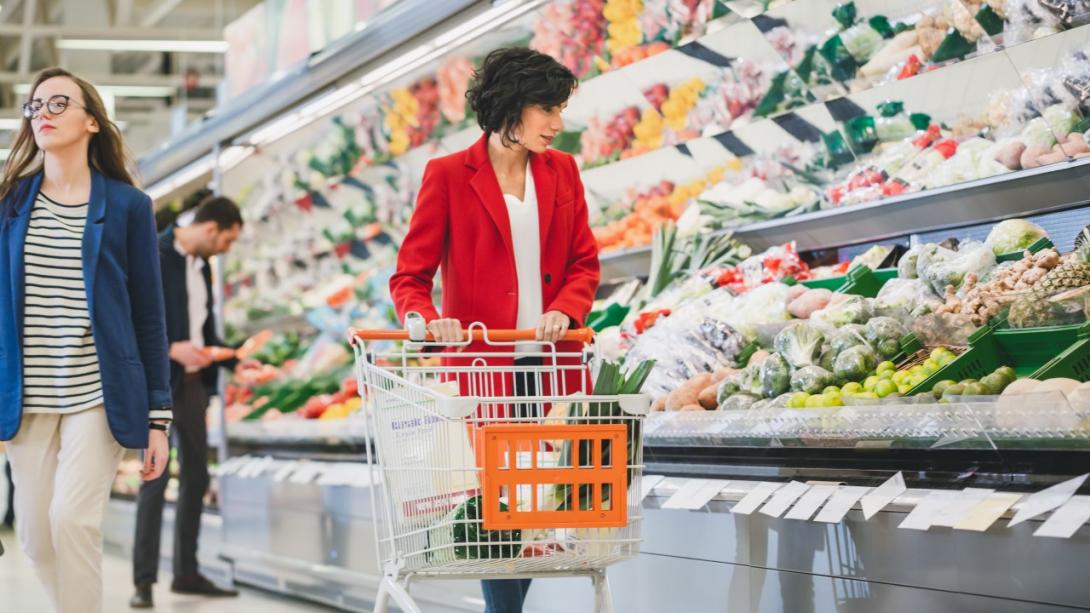 Guest blog by Babs Ates,
Senior Research Manager, Access To Nutrition Initiative
The Access to Nutrition Initiative (ATNI) has released the UK Retailer Index 2022  which is the first full nutrition- and health-specific Index assessing the largest food retailers in the UK. It is the latest in a suite of materials produced by ATNI in its partnership with ShareAction, which has included the publication of the UK Supermarket Spotlight 2020 and two UK Product Profiles (2019 and 2021). Findings from this report will also be presented at the upcoming Peas Please Conference in Leeds on May 18, 2022. 
There is an ever-growing nutrition-related health crisis in the UK and a clear discrepancy between the UK government's recommendations for a healthy balanced diet (as laid out in the Eatwell Guide) and the average diet (with most people eating too many foods high in fat, salt and sugar and low in fruit, vegetables, fibre and wholegrain). Families in the UK are facing rising costs of living and when disposable incomes decrease, food is often the first expenditure to be cut. The latest figures from the Food Foundation show that 12.8% of households have had smaller meals than usual or skipped meals because they couldn't afford or get access to food . Urgent action is needed to reshape the food system in the UK into one in which healthy food is the affordable, easy and desirable option.
The 11 major food retailers assessed in the UK Retailer Index 2022 account for over 80% of spending on groceries in the UK, providing them with a great opportunity – and, arguably, a responsibility – to ensure that these food purchases contribute to addressing the UK's poor eating habits. 
The topics assessed in this Index aim to measure the efforts retailers have made to incorporate nutrition into their overall corporate strategy and governance; assess the nutritional quality of product portfolios and develop healthy products; support consumers to eat a healthy diet; market products responsibly; improve accessibility of nutritional information and labelling products effectively; engage with policymakers and other stakeholders and improve practices around infant and young child nutrition.
UK retailer ranking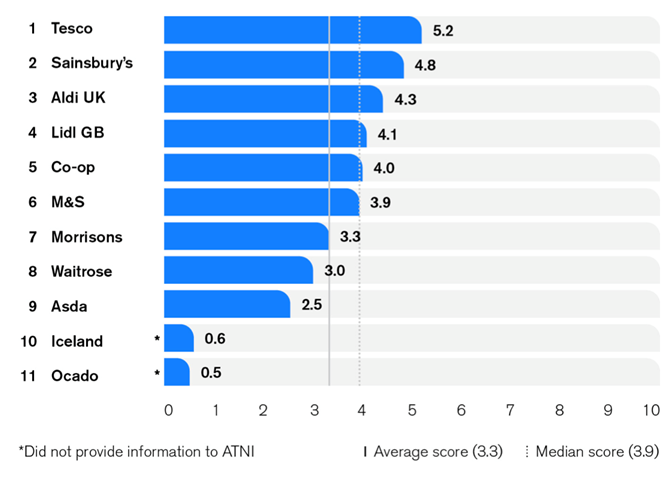 The average score across the retailers is 3.3 out of 10. Tesco leads the Index, with a score of 5.2 out of 10 and is followed by Sainsbury's, which ranks second, with a score of 4.8 out of 10. In most cases, the companies that ranked highest have more comprehensive strategies in place, of which more is available in the public domain. Iceland and Ocado have very limited information in the public domain of any action being taken on nutrition, and they did not submit data to ATNI at any stage of the process.
Key findings
Retailers who score relatively highly for Governance also tend to rank higher in the UK Retailer Index 2022 as a whole. 
Retailers use different definitions of the term 'healthy'. Many use a nutrient profiling model for a range of applications. However, not all the retailers use the government-endorsed Food Standards Agency 2004/5 model, sometimes using their own standards or a combination of models. This inconsistency between retailers potentially leads to confusion among customers and others (including investors and policymakers) as to the healthiness of products. 
Retailers often focus promotions of healthy products on fruit and vegetables by increasing their visibility in store and running promotional campaigns. 
Six companies – Co-op, Lidl, M&S, Morrisons, Tesco and Waitrose – have committed to increase levels of fruit and/or vegetables in packaged products. Of these, three – Lidl, M&S and Morrisons – have an explicit target. Tesco is the only company to report on progress against a target for fruit/vegetables in packaged food with a baseline, albeit in just one category (ready meals).
The majority of retailers are working to make fruit and vegetables more visible in-store, and many of them also run promotional campaigns to address their affordability. Lidl and Morrisons provide evidence of having addressed affordability of fruit and vegetables.
The most popular UK third-party non-commercial initiatives supported by the retailers are the Veg Power campaign and  Peas Please, with 9 out of 11 retailers joining these initiatives.
Despite the recent announcement from the UK Government that restrictions on multibuy promotions of foods high in fats, salt and sugar (HFSS) will be delayed (although restrictions on product placement of HFSS foods will go ahead), the business case for retailers to continue to work on creating healthy environments is stronger than ever before.  In particular, the National Food Strategy recommendations for mandatory reporting of sales of HFSS foods indicates a more general direction of travel towards a greater focus on transparency.  In some areas, the UK Retailer Index 2022 shows that retailers are taking action towards creating healthy food environments for all, but it highlights that a lot more work is needed. 
The full ATNI UK Retailer Index 2022 report can be found here.