rgb(247,147,30)
News
04 October 2023
How easy is it to have a sustainable diet?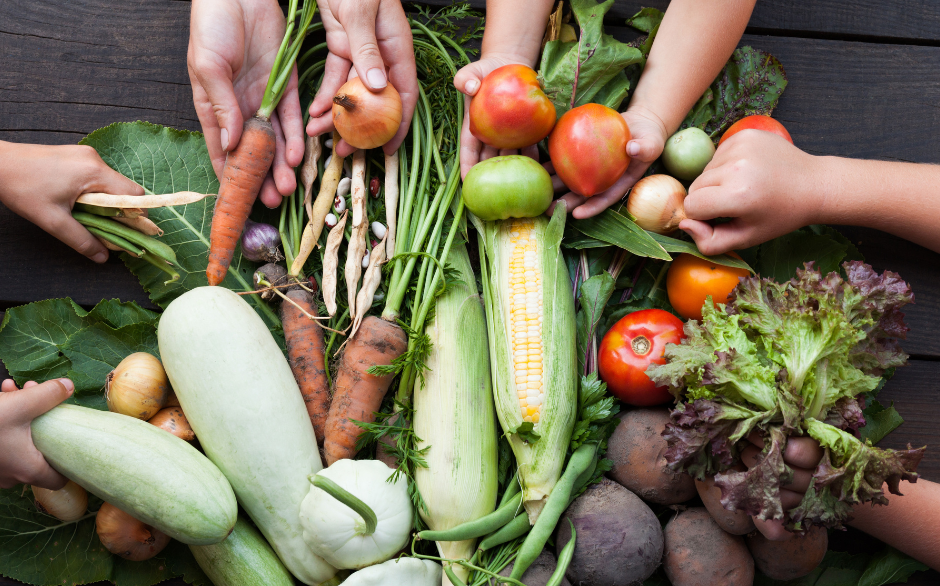 As last month was Sustainable September, we've been reflecting on the idea of a 'sustainable diet'.
Food (and dietary shifts) is increasingly being acknowledged as an important element of a sustainable transition. Previously a neglected topic, food is now making it onto the agenda in global governance conversations on climate.
There was a significant focus on agrifood systems transformation and food security at the recent SDG Summit as well as the 78th United Nations General Assembly. COP28 too, which begins in late November, will for the second time feature a Food and Agriculture pavilion, a hub to discuss how to 'sustainably transform food systems and achieve Zero Hunger.'
While changing how our food is produced is important, due to the high resource requirements for raising and feeding livestock, the largest contributions to diet-related greenhouse gas emissions will come from animal products even when these are produced using more sustainable production practices (The Food Foundation, 2023a).
Therefore any 'sustainable transformation' of food systems will require dietary shifts. But what does a sustainable diet look like? And is eating sustainably actually a realistic possibility for everyone? 
Dietary patterns associated with low levels of greenhouse gas emissions include high levels of fruits, vegetables, wholegrains, nuts, pulses and legumes and low levels (or none) of meat and dairy products.
Meat reduction will need to be the most defining feature of dietary change for global north populations. Globally, production and consumption of all types of meat has increased substantially in the last 50 years (WHO, 2023) and livestock are now the single biggest contributor to food system emissions, with 77% of the world's farmland used for grazing or growing crops for animal feed (National Food Strategy, 2021).
The Climate Change Committee says eating less meat is critical to achieving net zero, however currently global production and consumption of meat is predicted to actually increase by a further 50% by 2050. (WHO, 2023).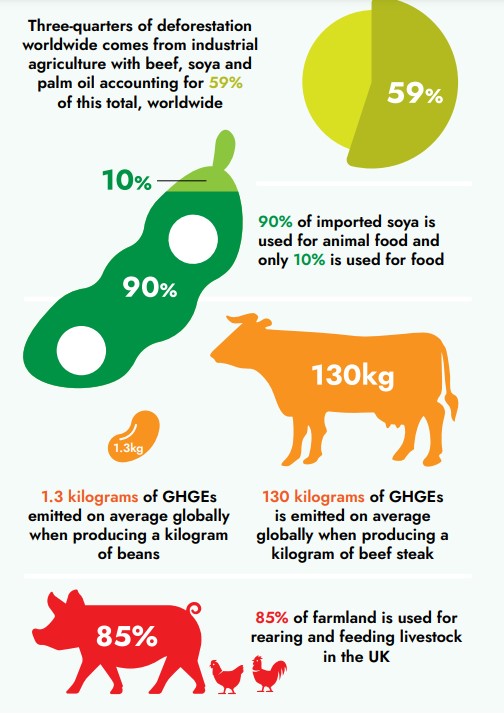 Reducing red and processed meat consumption could also be a win for health; a new briefing from Eating Better shows that for each 50g of processed meat (equivalent to two slices of ham or one sausage) eaten on average per day can increase your relative risk of poor health outcomes including bowel cancer, cardiovascular disease, and type 2 diabetes.
While many of us are concerned about the climate crisis and our health and would like to eat more sustainably (and healthily), there are barriers to achieving this – cost being a significant one.
The Food Foundation's recent briefing shows that while modelling studies suggest that in theory low emission diets can be affordable, in practice for low income households they can be more costly than current diets and are often inaccessible.
Plant-based meat and dairy alternatives currently come with a price premium (approximately 32% higher than their meat alternatives), while vegetables are an expensive source of calories in comparison to animal foods. Products that are more affordable, such as pulses and legumes, were shown to lack in appeal and accessibility.
Citizens need more support from businesses to be able to eat more sustainably and particularly to move away from high levels of meat consumption.
Currently, they are not doing enough; another recent Food Foundation briefing shows that, of the 27 major publicly listed UK food companies assessed, although some have set targets for boosting sales of plant-based alternatives, none have targets for reducing sales of animal-based food nor disclosing the data that would help to track a sales shift away from animal-based to plant-based foods.
In the absence of government regulation, businesses can still support a transition towards more sustainable diets by setting SMART (Specific, Measurable, Achievable, Relevant and Time-bound) targets on the protein shift and reporting data transparently.
Policymakers too need to take action to support dietary shifts. This should start with recognising the need to transition UK diets towards less meat and ensure a strategy for achieving this forms part of the government's Net Zero strategy.
Currently, the strategy includes no mention of diets; surprisingly Rishi Sunak recently announced he was scrapping a proposed tax on meat, despite such a tax not being  considered being a Conservative or Labour policy, nor in any party manifestos.
For more recommendations for both businesses and the government on what they should be doing to support UK citizens to eat sustainably, see our recent briefings here and here.
References: 
World Health Organisation (WHO) (2023). Red and processed meat in the context of health and the environment. Available at: https://www.who.int/publications/i/item/9789240074828. 
Eating Better (2023). It's time to act on processed meat. Available at: https://www.eating-better.org/site/assets/files/6465/its_time_to_act_on_processed_meat_final-1.pdf.  
The Food Foundation (2023a). Low income, low emissions? Is reducing the emissions footprint of UK diets achievable for different income groups? Available at: https://foodfoundation.org.uk/publication/low-income-low-emissions-reducing-emissions-footprint-uk-diets-achievable-different. 
The Food Foundation (2023b).  What are UK food companies doing to support the transition away from industrial meat? Available at: https://foodfoundation.org.uk/publication/what-are-uk-food-companies-doing-support-transition-away-industrial-meat.