News
03 December 2021
The Glasgow Food and Climate Declaration presented at COP26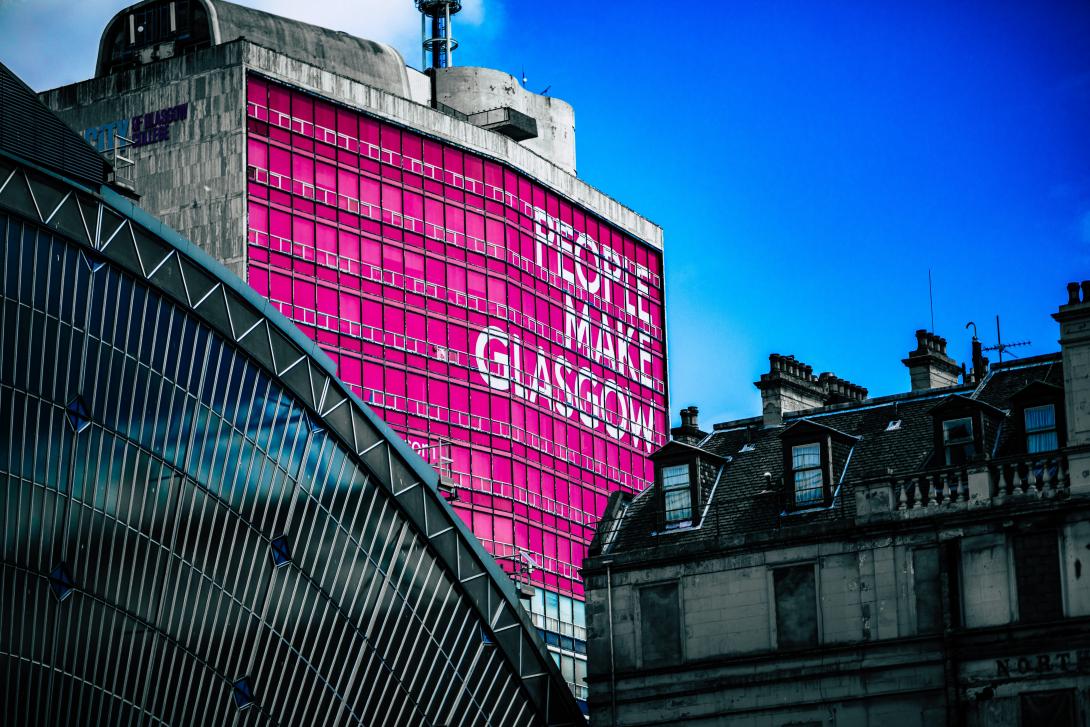 The Food Foundation's Food Cities 2022 initiative supports cities to develop their work on food system transformation. The initiative focuses particularly on those at the start of their journey and those in low to middle income countries. In our Learning Platform we have created a one-stop-shop of our pick of the most useful information and resources, including global networks and declarations, such as the Glasgow Food and Climate Declaration, presented at COP26 last month.
Whilst food was conspicuously absent from the main programme at COP26, there was much happening on the fringes of the event, including a number of events hosted by The Food Foundation .   It also saw the official presentation of the Glasgow Food and Climate Declaration. Florence Pardoe, City Food Policy Officer at The Food Foundation, spoke to Sofie Quist of Nourish Scotland, the organisation that spearheaded the Declaration, to find out more about the ambitions and intention behind it, how cities can get involved and how it can benefit them to do so.
What is the Glasgow Food and Climate Declaration?
The Glasgow Declaration started in 2020 with a group of city and sub-national government networks, civil society organisations and local government. At its core, it is a political statement – a call to action to give food systems their due priority in climate negotiations. Food needs to part of the conversations to reach climate targets, and whilst many local and sub-national governments recognise this, it is often absent from the agendas of national leaders. 
The Glasgow Declaration recognises that leadership on integrated food policies comes from sub-national governments, of any size – from town councils, to municipalities, to mega cities and states. They are already leading the way. By signing the Declaration their voices become amplified, the pressure on national leaders intensifies and action is catalysed. Cities and local authorities can have a great deal of influence towards positive change at the local level, but much cannot be done without national support. Vertical integration is essential across every level, from community led grass-roots action, up to national and international cooperation.
The Glasgow Declaration was officially presented on November 6th 2021 at the Glasgow City Chambers during the crucial COP26.
Mr. Moura de Castro, the Coordinator of International Relations of São Paulo, Brazil, said at the launch event that the Declaration is "a groundbreaking commitment to address local food systems and climate change that highlights the role of local governments and call for action to make comprehensive policy support for food systems".
A few days before the launch an event was held, titled The Glasgow Food and Climate Declaration: A call for multi-level action on food systems for a just transition. In her keynote speech at the LGMA Pavilion, Ms. Mairi Gougeon, the Scottish Cabinet Secretary for Rural Affairs and the Natural Environment, said "Collaborative work is crucial in the food sector as the plan has to be designed carefully with stakeholders to ensure economic and social opportunities from just transition aren't missed".
This piece on the City Talk blog from ICLEI goes into further detail about the events at COP26. The Glasgow City Food Plan, recently released, is a good example of a city food strategy recognising and embedding action on food and the environment in their plan (see page 37-42). It is one among many progressive integrated food policies and actions spearheaded by Glasgow Declaration signatories.
Who has signed the Declaration?
There are now over 100 signatories from six continents. Signatories include small towns, rural municipalities, cities, mega cities, states such as Catalonia in Spain and Cross River State in Nigeria, and two national governments: Scotland and Honduras. In Scotland alone, there are now 9 signatories, and the noise that the Declaration is generating is reaching the ears of the Scottish Government, who is also a signatory, and helps put food systems firmly on their agenda when it comes to sustainability and climate policy. The UK holds the presidency for the COP until COP27 takes place next year in Egypt and Sofie explained that over the coming year they will work with the Declaration partners to increase the number UK signatories and provide strong advocacy from the sub-nationals to the national government. 
Why sign the Declaration?
The Glasgow Declaration is deliberately high-level in nature and is first and foremost a call to action and an opportunity for governments to renew their commitments to adopting integrated sustainable food policies. The Declaration builds on initiatives such as ICLEI, C40 and the MUFPP and as such has no particular framework or targets attached to it making it relatively easy for cities and sub-national governments to sign. It is a political statement that demonstrates recognition of the crucial link between food and climate. By signing, your city becomes part of a global voice of advocacy. It shows leadership, increases your visibility and connects you into other sub-national governments, organisations and the international network of this initiative. With strategic use of Communications, media and publicity, signing this call-to-action can bring these issues to the attention of your national government and citizens, as well as to other sub-national governments in your region, encouraging them to also sign. This multi-level groundswell is what leads to action. 
Sofie explains how you can use the declaration to advocate in a way that makes sense for you:
It's an open process and the Declaration is deliberately high level and open in its wording, so it's a process that sub national governments can sign up to and advocate with in the way that makes sense to them. Ask yourself, what are the conversations you are having around food and climate and how is this work most relevant? By joining the collective, you can use that leverage with your own national governments to advocate for the issues you are focusing on currently.
Whats next?
The Glasgow Declaration is what Sofie describes as a 'living Declaration'. It will be passed on next year to the COP in Egypt and on into the future, gaining more signatories and growing in the volume of its call-to-action from national governments. The aim is to carve out a clear space for cities to be heard at future COPs and for food and sub-national voices to be placed firmly on the agenda.
In January 2022 an open event will be hosted for signatories and those interested in signing, looking at how to move from declaration to action at a local level and national level. You can follow updates and register on www.GlasgowDeclaration.org. 
Have you signed the Declaration or are you planning to? We'd love to hear your story to share with our network. Please contact [email protected]