News
18 March 2021
Food Foundation and PLMR Win Award for Kids Meals Map
Food Foundation and partner PLMR scooped up the prize for 'Best Use of a Communications Tool in a Campaign' at the 2021 PRCA Digital Awards for our Kids Meal Map. We launched this online platform to signpost children and families to the businesses, community organisations and councils providing free meals over the October 2020 half-term. Some 50,000 users visited the site during the half-term with more than 1,100 businesses located on the map.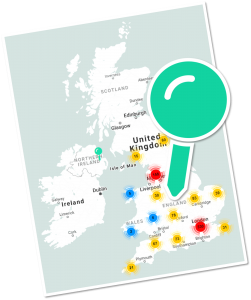 The Kids Meals Map site was set up in response to the parliamentary vote not to extend Free School Meal vouchers during the half-term holidays in October half-term. In response to this, footballer and campaigner Marcus Rashford began sharing the names of businesses, councils, foodbanks and other organisations who had advertised their willingness to fill the gap and help food-insecure families directly during the holidays. In 24 hours, the PLMR Digital team worked with the Food Foundation to produce a fully interactive map of businesses, charities and local councils who were already rallying to offer support to families in need posted on social media. In just a few days, thousands of organisations across the country submitted details to be added to the map.
As the leading industry awards for digital campaigning and public affairs, the PRCA Digital Awards celebrate the very best work happening across the UK in the innovative fields of online communications. PRCA Judge Alex Clough, Creative Strategy Director at Splendid Comms, described the win as "well deserved, vital, rapid and an inspiration to judge".
Jo Ralling, Head of Communications at the Food Foundation said:
"The Kids Meal Map proved to be a vital tool which not only helped vulnerable families across the country find help in their local area but also increased awareness of the campaign. Working on PLMR on this was a total pleasure from beginning to end. Their dedication, good humour and tenacity was next to none and millions of children living in poverty and facing food insecurity have benefited as a result."
The Kids Meals Map laid the groundwork for the interactive map on the End Child Food Poverty website launched in December 2020 to help families in need find help over the Christmas holidays and signpost them to Government support programmes available to them.