rgb(247,147,30)
News
02 November 2021
Emergency Food Planning for cities webinar series launches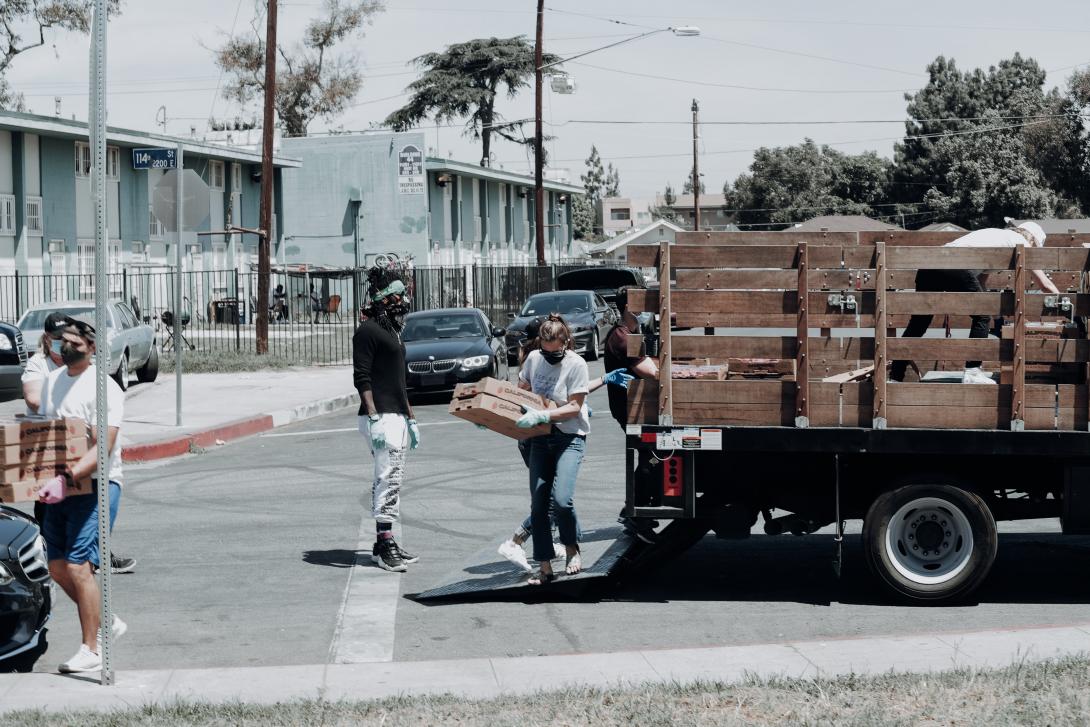 The Food Foundation launched Food Cities 2022 as an innovative Learning Partnership to shape and inform international action to transform food systems.  
The initiative hopes to accelerate action towards achieving the Sustainable Development Goals and will leverage international collaborations and events.
Food Cities 2022 includes three planned webinar series and a robust learning platform. The first webinar series focused on food strategy for beginners.
The second webinar series, launching November 3rd, will focus on 'Emergency Food Planning' as cities continue to struggle to deal with the impact of the COVID-19 pandemic. 
The pandemic has sharply highlighted the need for cities to prepare themselves for shocks and disruptions to supply and demand of food. From November 2021 to February 2022, we will be hosting a webinar series in which we explore emergency food planning within the context of four different types of food system disruptions. Cities will learn strategies and be provided with actionable resources to develop emergency food and recovery plans tailored to their city's unique food system pressures. We will also discuss how to gain input from subject matter experts and food system organizations to make sure the plans are efficient, equitable and in alignment with broader sustainability and food system goals.
Speakers will include experts, policymakers and practitioners from across the world. Each webinar will be accompanied with learning resources and videos will be shared under each heading once the webinar has taken place.
You can explore the series and resources, and register for webinars, on the Emergency Food Planning section of the learning platform. You can also register by clicking on the links below or access recordings for those past.
The series will run as follows: 
Webinar 1:  Strategies for emergency food planning motivated by the pandemic
Wednesday 3rd November 14.00PM GMT 
The pandemic was a wakeup call, as many cities found that they were not adequately prepared to handle the subsequent emergency food crisis. In this webinar, we focus on the spike in food insecurity due to increased poverty and inflated food prices. We will revisit Pune and Milan to hear about their progress and the ultimate impact of the pandemic on their food system. Cities will learn strategies and policy interventions to address this type of emergency food crisis. 
Webinar 2: Emergency food plans for refugees, migrants and communities in crisis  
Wednesday 24th November 14.00PM GMT
In the second webinar of our series, we explore cities grappling with feeding refugees, migrants and displaced people and the impacts on their local food system. Emergency food planning for this type of crisis needs to be culturally competent and sustainable. We will hear from experts and cities on the different types of local food system impacts that may be expected and learn about specific strategies and policy interventions to include in an emergency food plan. 
Webinar 3: Planning for filling the gap when food stores are forced to close 
Wednesday 15th December 14.00PM GMT
In the third webinar of our series, we address the impact of a natural disaster on local food systems, which may cause significant disruptions to food supply chains, physical barriers to accessing food and the closure of food stores. In this type of situation, emergency food response and recovery plans need to be aligned with broader emergency management plans, prioritized within these plans, and include leveraging various food assets to ensure all residents have access to food over an extended period. 
Webinar 4: Emergency food plans in the context of chronic food insecurity
Wednesday 12th January 14.00PM GMT
The fourth webinar in our series is focused on emergency food planning in cities that do not have robust food supply chains, who have to deal with food shortages on a regular basis. In this situation, vulnerable populations may be chronically food insecure. Policy interventions are needed to address underlying food supply chain issues, while emergency food plans need to include rapid assessments, rapid deployment and feedback loops, to make sure food shortages are addressed efficiently and equitably. 
Webinar 5: A roadmap for creating your city's emergency food response and recovery plan
Wednesday 2nd February 14.00PM GMT
The final webinar of our series provides a roadmap for integrating what you have learned in the previous webinars to create an emergency food response and recovery plan that addresses your city's unique food system pressures. We will also explore how emergency food plans may be integrated into a city's broader food strategy and how to move from plan to implementation. The webinar will also point participants to relevant resources on the Learning Platform for ongoing support.