What we delivered
We brought distinguished speakers from 20 cities around the world together to showcase their plans to transform the food system, including Dr David Nabarro, co-leader of the United Nation's Global Crisis Response Group and Foreign Commonwealth and Development Minister Amanda Milling.
Key highlights included
The event was headlined by Dr David Nabarro CBE, part of the United Nation's Global Crisis Response Group and the World Health Organisation's Special Envoy on Covid-19, who spelled out the critical need for food policy to be included in mainstream urban planning amid the climate crisis and dual burden of obesity and undernutrition.
Foreign Commonwealth and Development Minister Amanda Milling affirmed a £1.5 billion government funding commitment to improve global nutrition. Speaking during the event, said the funding would be put in place by 2030 for "interventions to improve nutrition right across our aid work".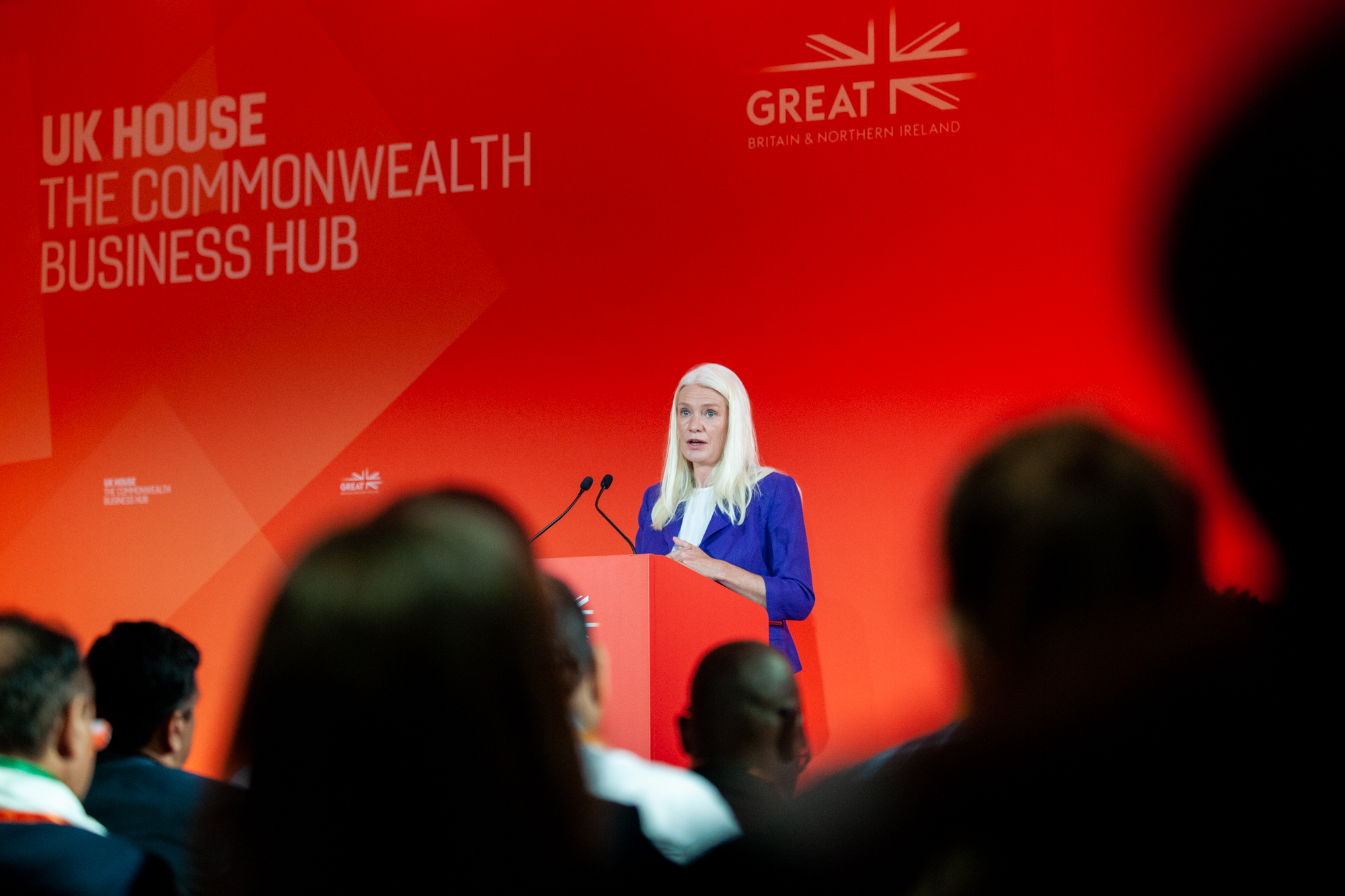 Thirty people from cities around the world also signed the Birmingham Food Justice Pledge, a formal commitment ensuring all citizens - irrespective of status - are entitled to safe, nutritious, and sustainable food. The signatories included top officials from cities in India, Bangladesh, Namibia, Malawi, Kenya and South Africa.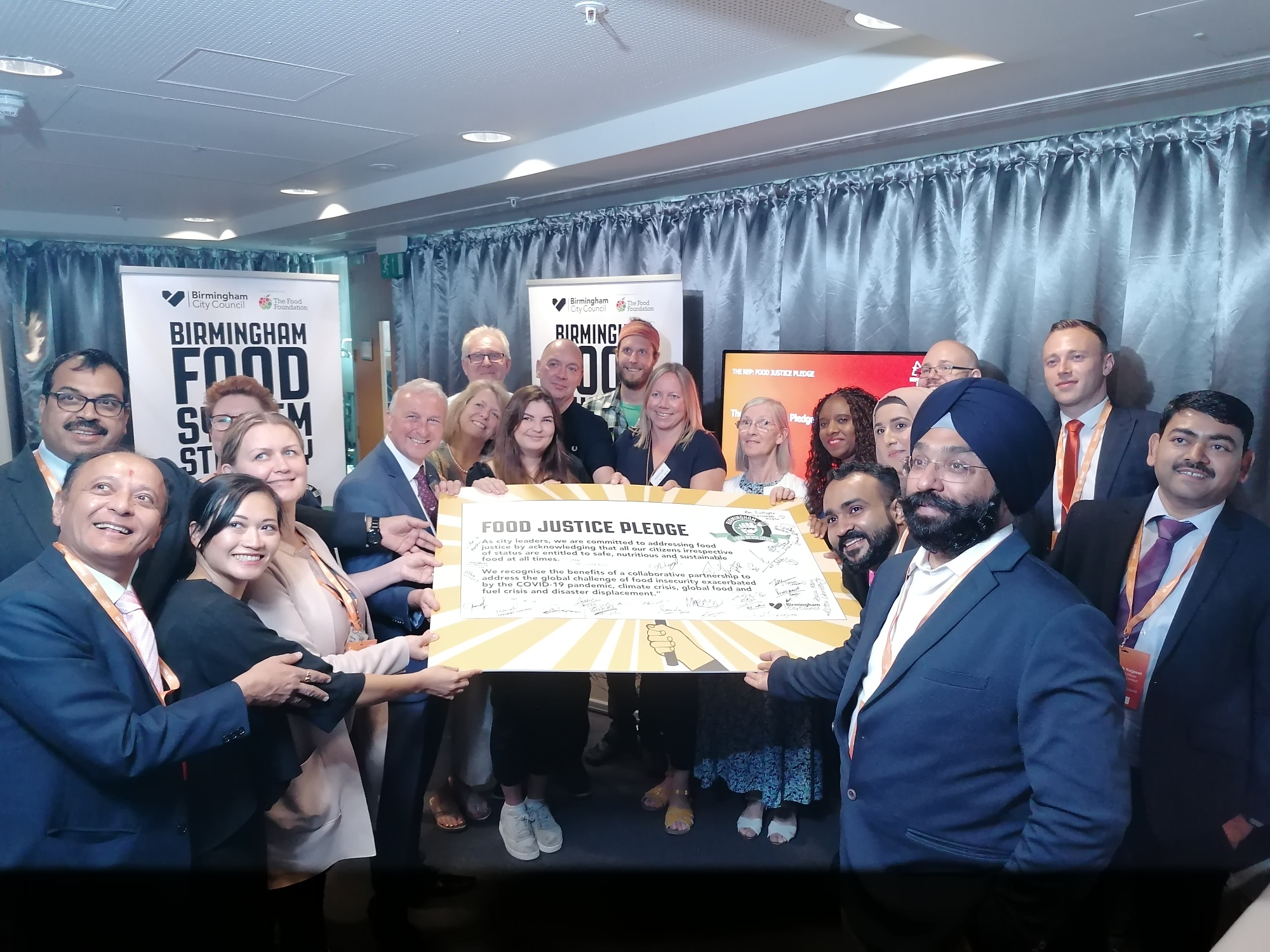 The event also provided a platform to highlight the Birmingham Food System Strategy, an eight-year project to create a food system and economy where food choices are affordable, nutritious and desirable for all citizens. It is currently out for public consultation.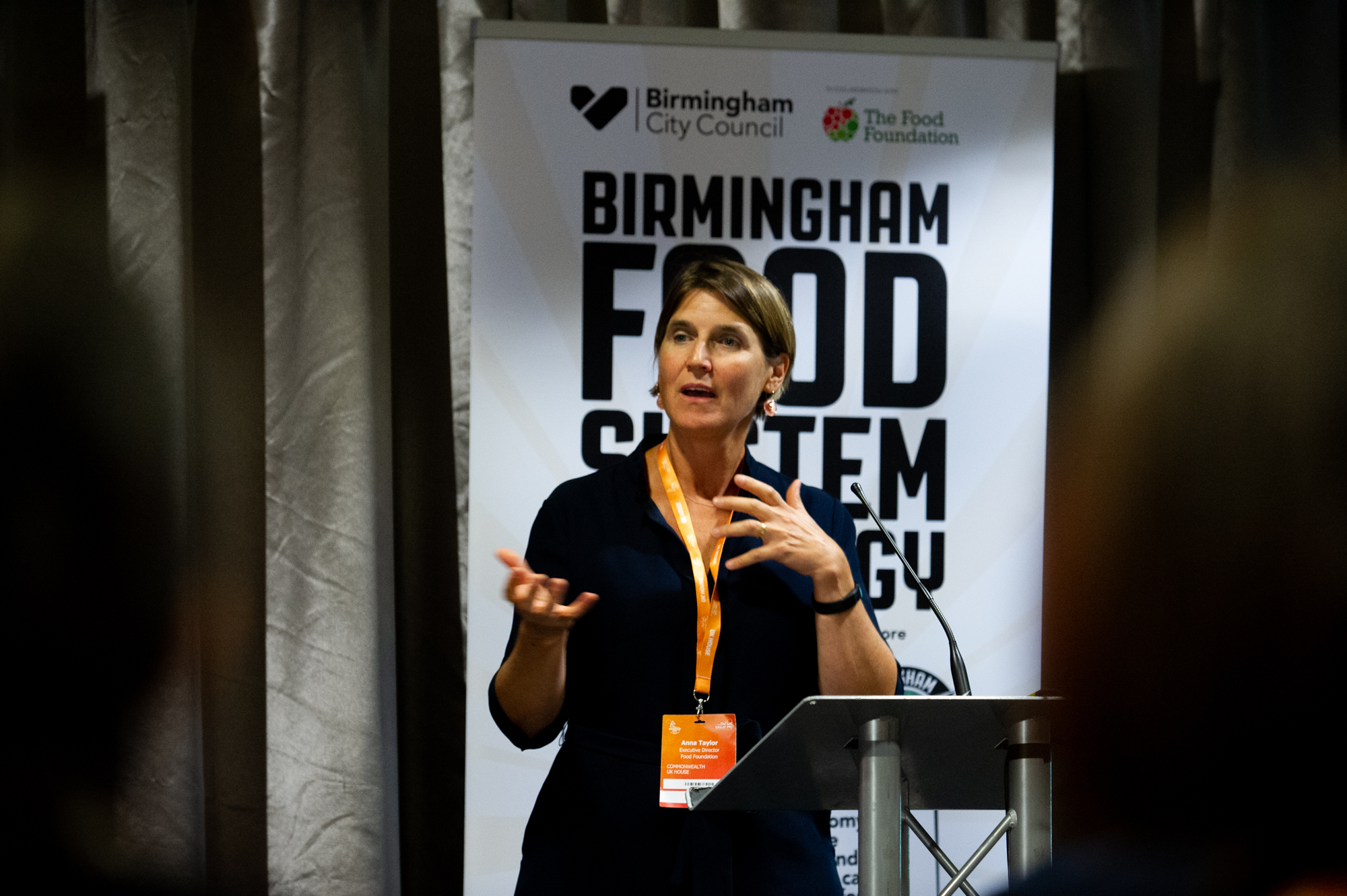 Many of those attending have already signed up to our Food Cities 2022 Learning Platform for cities as part of a commitment to transforming their food system.
Interviews and analysis of the sessions


Highlights from day one
 

Reflections as the first day concludes
 

India's leading role in transforming food systems 
 

What city leaders said about the event

Blogs from conference participants
Sukhwinder Singh, designated officer Food Safety Administration in the Punjabi capital of Chandigarh in Northern India, is involved in the Eat Well India initiative, a major project to transform food systems to provide safe, healthy and sustainable food in the face of climate change – an ambition shared by all The Food Foundation's Food Cities. 
"I look after the food safety administration of all food being produced, industrialised, sold and ultimately consumed, as well as enforcing provisions of the law here. Safe foods and good healthy diets are vital. India has a high burden of food borne disease, under-nutrition and micronutrient deficiency. 
"Our ambition is to build a sustainable, ethical and nutritious food system and a thriving local economy.
"We know that about 196 million Indians are undernourished, but 135 million are overweight or obese which means they are at risk of non-communicable diseases like high blood pressure, heart disease and diabetes.
"As well as these problems with the type of food people are eating, there's also a problem with quality. The number of cases of food borne illnesses is predicted to rise from about 100 million in 2013, to anything up to 177 million by 2030.
"These infections affect people's immune system function and their ability to absorb nutrients, which makes them vulnerable to more disease.
"Through food testing we are promoting awareness of what good and bad food is, and there is now a mobile food testing lab so people can get things checked at the doorstep.
"We have a lot of ambitions - fortified foods to improve overall nutrition levels and reduce incidence of conditions such as stunting and wasting; reducing food insecurity and cases of non-communicable diseases; generating awareness of people's right to safe foods, and addressing climate problems by educating people about what's happening and what needs to be done.
"We are trying to improve the nutritional value of all the food eaten by our citizens. We are offering free meals for children in all our schools up to the age of 14, and we have developed kitchen gardens in schools and that has been extended across the whole city.
"Promoting plant-based foods is a way of reducing the effects of climate change. We are organising workshops and camps and reaching school children to tell them why these foods are nutritious. Children are learning about climate change in schools and we are educating them to make these changes.
"We are promoting renewed interest in millets which is a traditional food that's also a super food. Millets are small seed grasses that are gluten-free and rich in nutrients, fibre, vitamins and proteins.
"They are used in bread, cookies and porridge. We are engaging the catering departments of schools to produce more recipes with millets. If you create new dishes with different names that will create new interest in the public.
"We know current food production and consumption practices are threatening the environment and the future of our planet. Food production is responsible for up to 30% of global greenhouse-gas emissions which is adding to global warming and climate change. 
"At the same time as problems with food availability and waste from food production, waste from food that is thrown away accounts for another 6.7% of these greenhouse gas emissions. We have now set up collections of food from restaurants and caterers to pass on to needy people. 
"We don't have urban farming but there are farmers in the areas around Chandigarh so we are organising more markets for local farmers to bring their food into the city. 
"All of these initiatives are helping people to focus on preventive healthcare by accessing safe, healthy food in an environmentally sustainable way."
Catherine Mzumara, is Executive Director of Women in Sustainable Agriculture (WISA) in Mzuzu, a metropolitan hub in Northern Malawi with a population of around 220,000. She is an academic researcher and a farmer.
"WISA is a network of women in agribusinesses aimed at sharing ideas, learning from each other, and to empower each other especially rural women farmers who are struggling to put food on their tables. We are trying to help them to have sustainable livelihoods.
"I am also the strategic lead on food policy for Mzuzu City working hand in hand with the City Mayor, Gift Desire Nyirenda to make sure the city has a sustainable food system and improved nutritious diets.
"The city must have a self-reliant food system, we don't have to bring in so much food from elsewhere which is becoming increasingly expensive.
"As a Food City, we are still behind compared to other food cities like Johannesburg, Durban and Nairobi that are already implementing their food policy, but we are trying our best.
"Mzuzu City has land that has been reserved for fishponds to develop and improve fish farming. However, we don't have enough money to get it going yet. We're also doing backyard gardening – teaching people to grow better more varied food on land they already own.
"We have just formed another small group of 500 women within the city to complement WISA and our Mzuzu food city project on urban farming. We're calling it Friends of Mzuzu with the same framework of sharing ideas for more productive and efficient agriculture.
"This is our first year of planting vegetables which include kale and cabbages, carrots, and eggplants [aubergines]. Most women in high density areas of Mzuzu City do their washing up of dishes outside their houses and we are capitalising on this wastewater for the vegetables grown in sacks or their backyards.
"The city used to have a nursery for flowers. We are changing the tradition, thus planting fruit trees and vegetables instead of flowers.
"People who sell fruit seedlings or young plants mostly sell them at a high price but now the city will be selling them much more cheaply to anyone that wants them, and we are using grafting where you grow a new plant onto rootstock, to develop improved varieties of fruit that are suitable for the conditions.
"This new generation has just been planted – oranges, mangoes, avocado pears and peaches. We are looking at the women's side, but we want everyone involved.
"A lot of people have moved into the city looking for work and have lost the tradition of growing things, but there is also a question of finding enough space to grow all the food we need.
"It's true though, that most people will never have enough room to grow all their own food. Scarcity of land in the city and poverty hinders urban farming as 51% of the population here in Malawi live below the poverty line.
"We're also planning to offer school gardening to promote school feeding by getting parents and school management committees to provide land that will be used for growing the ingredients for school meals. The schools and the community are very keen to take up the project.
"Food wastage is a huge problem in Mzuzu City. The first problem is post harvest food wastage. As a rain fed agricultural system, everything we grow matures at the same time, and we don't have the infrastructure for storage.
"Our fruits, vegetables and all fresh foods have a very short shelf life. If they aren't sold the same day, they simply go off. We are hoping to introduce indoor markets with solar powered cooling systems which will solve this problem.
"The second problem is food wastage after consumption. After cooking and eating, leftovers are thrown away because people don't have cooling systems like fridges.
"Tradition and culture contribute to food wastage too. We don't have a tradition of measuring food, when cooking, we measure the food with our eyes, and we have a huge amount that's left over and thrown away.
"Culturally for us to know that everyone is full in the family, there must be some food left on the plate. The minority who own fridges also continue to hold on to the idea that they cannot eat something left over from lunch for dinner.
"Fridge owner or not, leftovers are destined for the bin. To tackle this challenge, WISA is organising a cook what you can eat campaign.
"Through this campaign, WISA want to educate women about measuring before cooking according to the number of people to consume it. The campaign will also encourage the new practice of freezing leftovers so they can be used for a future meal. 
"The other problem is food waste disposal. At the moment, people are struggling to separate plastics and food waste. We are trying to instil a habit of separating waste in order to have food waste used separately for compost to grow more food. 
"We are putting a lot of effort into looking at the food systems of other countries and cities, learning from them and putting ideas into practice. That's the way forward for all of us."

Full videos of the conference

The opening session of Commonwealth Food Futures 2022
 

Addressing the dual burden of obesity and undernutrition
 

Which cities are leading food system transformation?
 

How cities are responding to the climate crisis
 

African women transforming food systems
 

India's role in creating more sustainable food policies


Major food supply chain challenges facing cities
 

Cities sign the Birmingham Food Justice Pledge