Image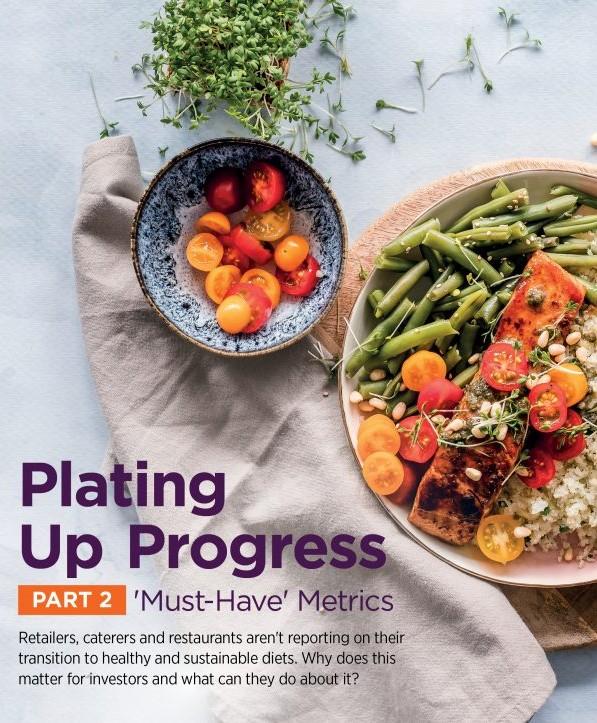 Plating Up Progress Part 2
Plating Up Progress Part 2: Must-Have Metrics is a new investor briefing developed by the Food Climate Research Network at the University of Oxford and independent think tank the Food Foundation. The report demonstrates that investors can identify opportunities and avoid risks by understanding how far food businesses are prepared for the transition to sustainable and healthy food, and put forwards the necessary metrics for assessing progress.
Executive summary
In our initial investor briefing, Plating Up Progress Part 1, we identified food business risks and opportunities relating to eight urgent issues of concern: 
Health and nutrition
Climate change
Biodiversity loss
Water use
Food waste
Human rights
Animal welfare
Antimicrobial resistance.
In this second report we assess how well food retailers, caterers and restaurant chains are setting publicly available performance targets that would allow investors to track progress against these issues of concern. We propose new metrics that can fill disclosure gaps where relevant, a set of questions investors should be asking companies, and set out a 'call to action' for increased engagement on these issues.
To 'fix food' we need to halt the conversion of natural habitats to agricultural land, restore fish stocks, transform the way we farm, reduce global food waste and losses, and crucially, change our diets. Inaction is not an option: the system-wide impacts of our current food system are too significant to ignore.
In 2019. retailers, caterers and restaurants aren't reporting on their transition to healthy and sustainable diets.