rgb(247,147,30)
Press Release
24 July 2023
One third of BOGOF and multibuy deals are on unhealthy food, with just 3.8% on fruit and veg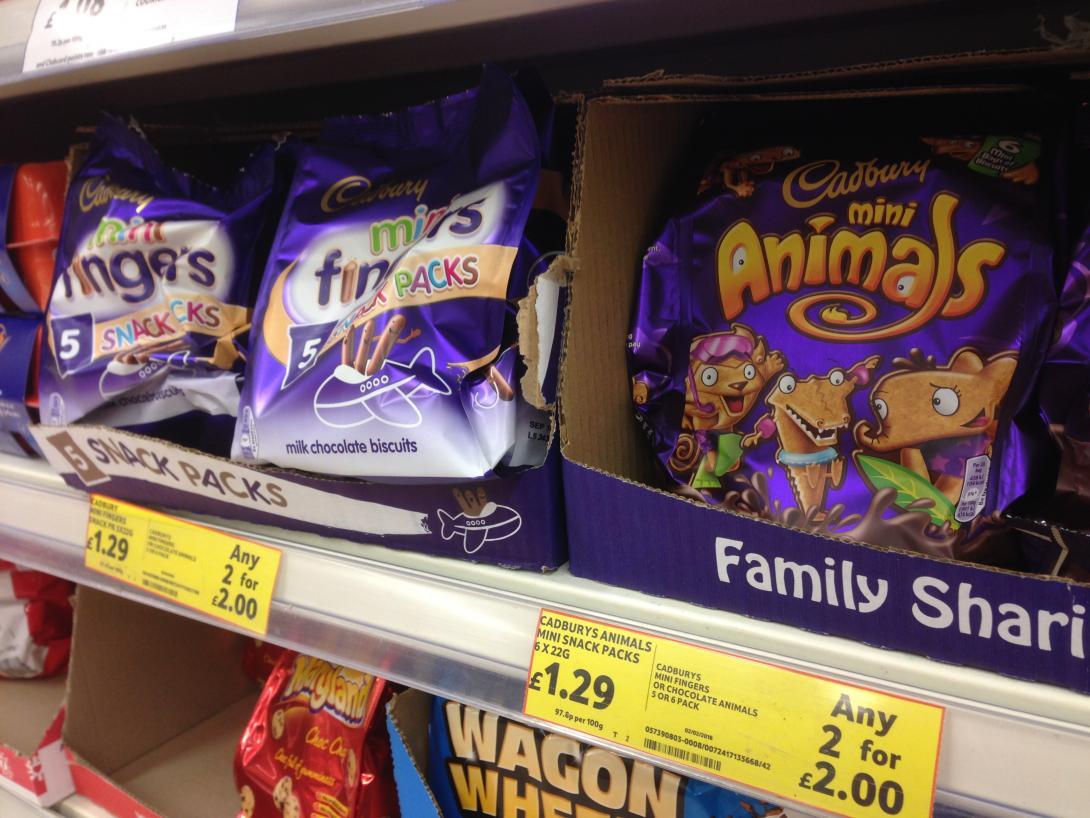 One third of BOGOF and multibuy deals are on unhealthy food, with just 3% on staple carbs and 3.8% on fruit and veg
New data released today shows that just 3% of volume promotions or multibuys available in supermarkets are on staple carbohydrates, 3.8% on fruit and vegetables and 1% on milk.
Just one promotion was found on eggs – a packaged snacking option rather than a carton of eggs intended for everyday use.
This comes as the Food Foundation publishes its latest round of national food insecurity data which shows 17% of households are struggling to put food on the table. 
Earlier this year, the government delayed restrictions to multibuys or 'buy one get one free' (BOGOF) deals on foods high in salt, sugar and fat (HFSS), arguing that families would need access to these price reductions during the cost of living crisis.
This new data shows that in fact the foods which families really need to be on discount during the cost of living crisis are not subject to multi-buys  - instead almost a third (29%) of are on high fat, salt and sugar products (HFSS). 
The Food Foundation's Kids Food Guarantee, funded by Fusion21, finds that only a tiny percentage of the deals apply to staple ingredients or essential items for feeding families.
The higher price of healthier calories relative to less healthy calories means it is already more challenging for citizens struggling with the cost of living to afford a healthy diet, especially those from low income groups, but the current distribution of multibuys do not help with the affordability of basic staple foods such as fruit and vegetables.  
Much like advertising spend in the UK, where a third (33%) of food and soft drink advertising spend goes towards confectionery, snacks, desserts and soft drinks compared to just 1% for fruit and vegetables, this analysis shows that action needs to be taken to rebalance marketing and promotional spend to ensure that healthy foods like fruit and veg are better promoted to customers. 
In the non-HFSS multibuy category, a wide range of foods were available, including marinades, sauces, spices and herbs, kitchen ingredients and composite foods such as ready meals, with a small proportion on healthier essentials such as fruit and veg.  The category 'Other' includes those products where nutrient information is missing online, which makes it difficult to calculate an accurate NPM score and determine whether the product is HFSS or not.   
Analysis found that Sainsbury's and Aldi run price reduction promotions but do not offer volume promotions or multibuys on food. Volume promotions or multibuy deals were found at three retailers: ASDA, Morrisons and Tesco.
Of these three retailers, Tesco offer the smallest proportion of unhealthy (HFSS) items on promotion. 6.2% of Tesco's offers are on HFSS products, just under half the amount that Morrisons and ASDA offer.
However, Morrisons offer the highest proportion of offers on staple carbohydrates (2.3%) and on non-HFSS foods. 
The Food Foundation data published today highlights that offering promotions could be a useful tool for supporting consumers to stretch their food budget further when promotions are on essential items.
But unless such promotions are structured so that they help citizens to afford healthier staple foods - rather than discretionary foods high in salt, sugar and fat - multibuy offers will only further obstruct the shift towards making healthier diets the easier, more affordable option.   
The Kids Food Guarantee is calling for the following changes:  
Where multibuy deals are offered, retailers and manufacturers ought to place deals on staple carbohydrates and healthy essentials like fruit and vegetables, milk and eggs rather than on less healthy, HFSS foods.  
Other retailers ought to follow Sainsbury's responsible business leadership in committing to ban promotions on HFSS foods despite the government rolling back the planned implementation of this policy to October 2025. Where commitments have been made to phase out HFSS promotions, as in the case of Tesco, commitments ought to be swiftly implemented. 
Government to reconsider their delay of the planned ban on HFSS promotions. It will not be possible for the government to meet their goal of halving childhood obesity by 2030 unless urgent action is taken to rebalance the food environment.  
Anna Taylor, Executive Director of The Food Foundation, said: "Levels of food insecurity remain worryingly high, with 17% of households experiencing food insecurity in June 2023.

"This is over twice as high as levels in January 2022. With food price inflation falling only very slowly, we need both government and retailers to urgently step up and support households through the cost of living crisis.

"That support needs to make sure that families are able to access and afford healthy staples such as fruit and veg.

"Running promotional deals on junk food simply makes it even harder for many to access and afford nutritious food."
NOTES TO EDITORS
Please contact:
Pandora Haydon on 07789 712608 or email pandora.haydon@foodfoundation.org.uk 
THE KIDS FOOD GUARANTEE 
The Kid's Food Guarantee is a set of actions which we think supermarkets should have in place as a minimum if we are to effectively tackle rising levels of food insecurity. These are actions that citizens have told us they are eager to see, and which align with existing areas of focus for food retailers.  
METHOD 
To monitor this Guarantee area we worked with Questionmark Foundation, an international non-profit think tank, to look at what type of foods are included as part of multibuy promotions. Data was collected for the period 18th to 24th April 2023.   
We looked at food promotions available across the five largest UK retailers; Aldi, ASDA, Morrisons, Sainsbury's and Tesco. Promotions were all volume promotions, for example "buy one get one free" (BOGOFF) deals where customers benefit if more than one item (of the same) product is bought.
We looked at whether such offers were on High Fat, Salt, Sugar (HFSS) foods, staple carbohydrate products, and other healthy essentials such as fruit and veg. Staple carbohydrate foods were defined as plain carbohydrates in their simplest form, including rice, pasta, grains, potatoes, lentils, beans (including dried and tinned), and loaves of bread (excluding rolls and pitta breads etc). The Government's Eatwell Guide recommends that 38% of our diets consist of starchy carbohydrates such as bread and rice, 40% from fruit and veg, and 12% from beans, pulses and other animal protein. HFSS foods are recommended only to be consumed infrequently and in small amounts. For children aged under 4, it is recommended that 50% of their daily energy intake come from carbohydrate.  
Vitamins, medicines, and other non-food products were excluded. Alcohol was included in analysis looking broadly at the type of deals currently offered in the UK, but excluded where we looked at the types of foods on offer and how healthy or unhealthy they are. Non-alcoholic drinks were included in the nutrition profiling analysis.  
We used the Government's Nutrition Profiling Model to assess the healthiness of offers. Using this criteria foods scoring 4 or more points, and drinks scoring 1 or more points, are classified as high in sugar, salt and/or fat (HFSS). Products categorised as 'Other' were where missing information made it difficult to calculate an NPM score and determine whether the product is HFSS or not.   
We will be running the same analysis again at regular intervals to assess where progress is being made. For further details on the methodology used in the Kid's Food Guarantee and our inclusion and exclusion criteria, read our technical report. 
FOOD INSECURITY TRACKING 
Food Foundation Insecurity tracker here.  
All figures, unless otherwise stated, are from YouGov Plc. Total sample size was 10,814 UK adults. Fieldwork was undertaken between 31st January and 3rd February 2023. The survey was carried out online. The figures have been weighted and are representative of all UK adults 18+. The figures presented from the online survey have been analysed independently by The Food Foundation and the London School of Hygiene & Tropical Medicine. Comparison to older figures is from a series of previous surveys conducted with YouGov commissioned by the Food Foundation. Population calculations made by the Food Foundation using 2021 mid-year population estimates (reference).  
We ask the following questions to explore how many households have experienced food insecurity:   
having smaller meals than usual or skipping meals due to being unable to afford or get access to food   
being hungry but not eating due to being unable to afford or get access to food   
not eating for a whole day due to being unable to afford or get access to food  
If they answered yes to any of these three questions, they are classified as food insecure.  We ask them if they had experienced this in a) the last month and b) the last 6 months. The questions are based on the United States Department of Agriculture's Food Security Survey module. 
AVAILABLE FOR INTERVIEW
Rebecca Tobi – Senior Business and Investor Engagement Manager  
Hannah Brinsden – Head of Policy and Advocacy 
SOCIAL MEDIA
Twitter: @Food_Foundation 
Instagram: food.foundation
The Food Foundation Podcast
For more in-depth analysis and lived experience listen to our podcast
About the Food Foundation
The Food Foundation is a charity working to influence food policy and business practice, shaping a sustainable food system which makes healthy diets affordable and accessible for all. We work in partnership with researchers, campaigners, community bodies, industry, investors, government and citizens to galvanise the UK's diverse agents of change, using surprising and inventive ideas to drive fundamental shifts in our food system. These efforts are based on the continual re-evaluation of opportunities for action, building and synthesising strong evidence, convening powerful coalitions, harnessing citizens' voices and delivering impactful communications.        
Registered Charity Number 1187611.
With thanks to our Funder:
Celebrating its 21st anniversary this year, Fusion21 is a national social enterprise specialising in efficient and impactful public sector procurement and visible social value. The Fusion21 Foundation was set up in 2015 as a registered charity, to help build brighter futures for the communities that Fusion21 operates in.  Since its inception in 2015, the Foundation has given over £1.6 million in grants and has committed £2 million in social investment. The Foundation has three areas of focus: Employment and Skills; Health and Wellbeing; Financial Inclusion and Resilience. The views expressed are those of the authors and not necessarily of the Fusion21 Foundation.