rgb(217,224,33)
Press Release
06 September 2023
New data shows low-cost yogurts often very high in sugar, as parents struggle to afford healthier options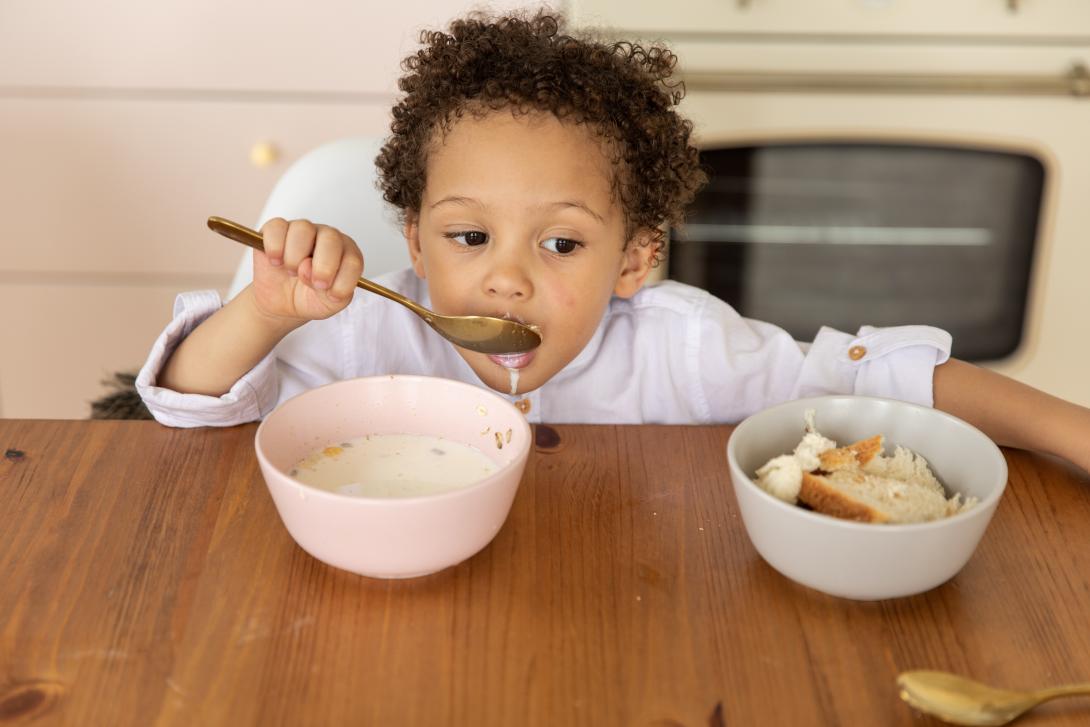 New data shows low-cost yogurts often very high in sugar, as parents struggle to afford healthier options
New data, collected in July 2023 and released today, shows that plain, unsweetened single pots of yogurt are on average 28% more expensive than sweetened yogurts, and make up less than 4% of the single portion yogurts on offer.
The Food Foundation's Kid's Food Guarantee, funded by Fusion21 Foundation, found that 53% of yogurts on sale contain 4 cubes or more of sugar – equivalent to more than half of a child's daily free sugar allowance.
The Kid's Food Guarantee is a list of suggested actions for supermarkets to follow to help effectively tackle rising levels of food insecurity. As part of this, the Food Foundation regularly track the price of yogurt and boxed breakfast cereals as popular products fed to children.
Previous data, released in June 2023, showed that the cheapest single portion of unsweetened yogurt is Tesco Greek Style Yogurt at 29p per pot, whereas the cheapest single portion of sweetened yogurt from ALDI, ASDA, Morrisons and Sainsbury's all came in at 7p. This means that parents feeling the squeeze who are trading down in terms of price, are more likely to purchase products with a poorer health profile. 
Yogurt is a staple item for many families. It provides a valuable source of calcium for young children and is a food that caregivers and parents are likely to give their children in the belief that it is a relatively healthy option.
Many yogurts are, however, high in sugar - with yogurt one of the ten main categories contributing to children's sugar intakes. In fact, in each of the five supermarket chains included in June's report (Aldi, ASDA, Morrisons, Sainsbury's and Tesco), the cheapest single portion yogurt pot available contained the equivalent to three cubes of sugar.
Although yogurt contains naturally occurring sugars (equivalent to 1 cube of sugar per 100g), children aged under four should avoid free sugars, and the recommendation for children aged 4-6 is no more than 19g a day (five sugar cubes). Many yogurts may therefore be contributing a very high proportion of the recommended daily sugar intake to children's diets in a single serving, particularly those that parents may think are saving them money. 
There were only 13 plain, unsweetened yogurts sold in single portion pots out of the 372 products looked at in July. The average price of an unsweetened, plain yogurt is £0.83 per pot. This remains much higher than the average price of £0.65 for sweetened and/or flavoured yogurts.  
The Muller Bliss Lemon Greek style yogurt was found to be the cheapest yogurt with the highest sugar content, priced at just 44p in some supermarkets. The product contains six cubes of sugar, five of these added, almost the entire daily allowance of a 7-10 year old, and yet it is far cheaper than the average plain yogurt. 
This is despite the fact that when The Food Foundation surveyed low-income households with children in January, 79% said it would make it easier for them to feed their children well if retailers made the healthiest children's yogurts and cereals the most affordable.
With levels of food insecurity remaining stubbornly high at 17% of all households in June, more urgent action needs to be taken to ensure that families are able to feed their families a healthy and nutritious diet as we head into Winter. 
The Kids Food Guarantee is calling for supermarkets to ensure:
The cheapest yogurts and cereals are those with the best health profile. Better pricing for health is critical in ensuring that low-income groups are able to access a healthy diet during the cost-of-living crisis. 
Unsweetened yogurts should be available in small, snackable portions and available in all stores to ensure they are easily accessible for families.  
A similar alignment of health and price in yogurts as in cereals. Own brand cereals are both healthy and affordable and offer better value than branded cereals. 
For the full list of asks for retailers in The Kids Food Guarantee, see here: The Food Foundation's Kids Food Guarantee.
Anna Taylor, Executive Director of The Food Foundation, said: "Ideally the cheapest yogurts and cereals would be those with the best health profile.

"This would support families to access healthy and affordable staple products, so they don't end up with cheaper, less healthy products.

"We know that many families are having to trade down on price with the cost of living crisis continuing to bite, so it's essential that this doesn't also mean trading down in health and good nutrition.

"Both retailers and manufacturers could be doing a lot more to support households with children through the coming months."
NOTES TO EDITORS
Please contact:   
Juliet Grant – 07929 075489 or email juliet.grant@foodfoundation.org.uk 
AVAILABLE FOR INTERVIEW
Rebecca Tobi – Senior Business and Investor Engagement Manager, The Food Foundation  
SOCIAL MEDIA
Twitter: @Food_Foundation 
Instagram: food.foundation
The Food Foundation Podcast
For more in-depth analysis and lived experience listen to our podcast
About the Food Foundation
The Food Foundation is a charity working to influence food policy and business practice, shaping a sustainable food system which makes healthy diets affordable and accessible for all. We work in partnership with researchers, campaigners, community bodies, industry, investors, government and citizens to galvanise the UK's diverse agents of change, using surprising and inventive ideas to drive fundamental shifts in our food system. These efforts are based on the continual re-evaluation of opportunities for action, building and synthesising strong evidence, convening powerful coalitions, harnessing citizens' voices and delivering impactful communications.        
Registered Charity Number 1187611.
THE KIDS FOOD GUARANTEE
The Kid's Food Guarantee is a set of actions which we think supermarkets should have in place as a minimum if we are to effectively tackle rising levels of food insecurity. These are actions that citizens have told us they are eager to see, and which align with existing areas of focus for food retailers.   
METHOD
To monitor this Guarantee area we worked with Questionmark Foundation, an international non-profit think tank, to look at available yogurts and cereals, their price, and nutritional information for the largest five major UK retailers: Aldi, ASDA, Morrisons, Sainsbury's and Tesco.  Data was collected for the period 19th to 26th July 2023 and compared to data collected for the period 18th to 24th April 2023.
We used the Government's Nutrition Profiling Model to assess the healthiness of cereals. Using this criteria foods scoring 4 or more points are classified as high in sugar, salt and/or fat (HFSS).
To assess the nutrition profile of the yogurts in scope we looked at the sugar content of yogurt per 100g. We used the upper limit of total daily (free) sugar intake recommended for children as our guide for assessing sugar levels. For children aged 7-10 this is 24g, equivalent to 6 cubes of sugar. For children aged 4-6 it is 19g, equivalent to 5 cubes of sugar. 4g of sugar is equivalent to a teaspoon or cube of sugar, with 1 cube of sugar (3.8g) per 100g derived from naturally occurring milk sugars in yogurts.
For further methodological details and more information on our inclusion and exclusion criteria, read our technical report, or take a look at our previous yogurt and cereal reports. 
With thanks to our Funder:
Celebrating its 21st anniversary this year, Fusion21 is a national social enterprise specialising in efficient and impactful public sector procurement and visible social value. The Fusion21 Foundation was set up in 2015 as a registered charity, to help build brighter futures for the communities that Fusion21 operates in.  Since its inception in 2015, the Foundation has given over £1.6 million in grants and has committed £2 million in social investment. The Foundation has three areas of focus: Employment and Skills; Health and Wellbeing; Financial Inclusion and Resilience. The views expressed are those of the authors and not necessarily of the Fusion21 Foundation.