rgb(217,224,33)
Press Release
18 July 2022
Major report highlights impact of Britain's disastrous food policy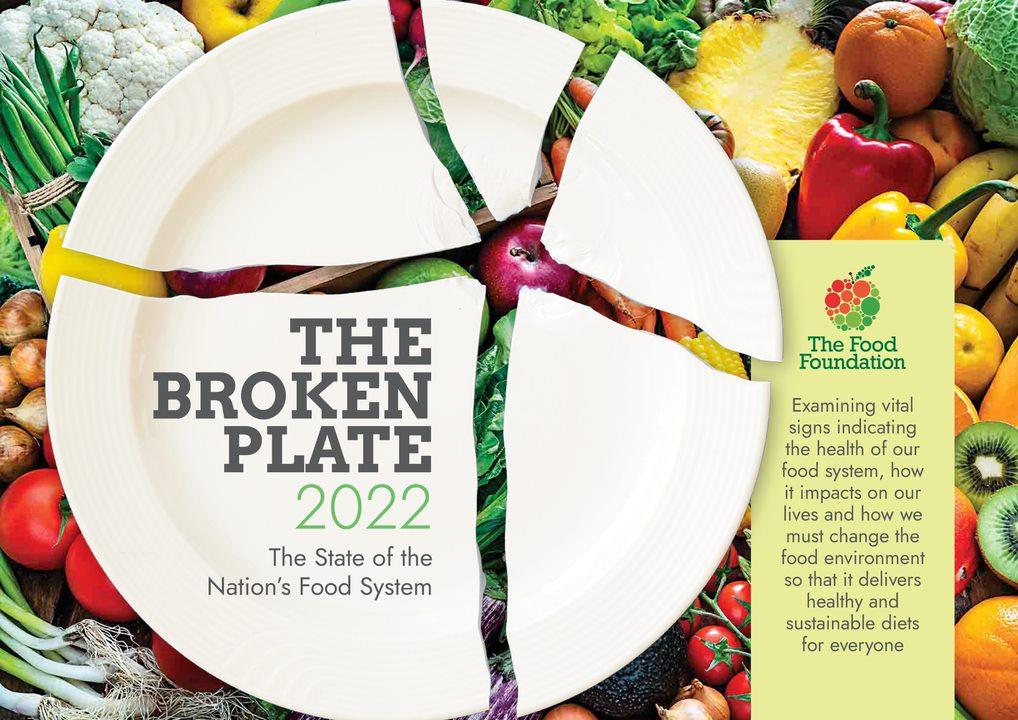 The Broken Plate 2022 report 
The influential 2022 Broken Plate report published today by The Food Foundation reveals as never before the dangerous impact of negative trends in the nation's diet and the urgent need for a major overhaul of our food system.   
The report highlights the wide range of damaging effects caused by poor nutrition and the absence of a coherent UK food policy, leading to problems which include stunted growth in our children and record-breaking levels of amputations linked to the complications of obesity.  
The Broken Plate presents the strongest arguments so far for a change in the nation's food policies to give everyone in the UK access to a healthy diet that avoids further damage to global climate and environment. 
Its authoritative research presents a bleak picture of the consequences of our broken food system:
On current trends more than 80% of children born in 2022 who survive to the age of 65 will be overweight or obese. At least one in 20 of them will already have died.  
Obesity in children has risen by 50% in the past year alone. Children with obesity are more likely to grow up to have diet-related disease. Obesity adversely affects ability to learn in school, self-esteem and physical and mental health.  
Poor nutrition is causing stunted growth. British five-year-olds are shorter than five-year-old populations of our European neighbours with significant height variation between poor and wealthy areas within this country.  
Life-limiting amputations caused by the complications of diabetes linked to obesity have reached record levels, tragically impacting the quality of life of affected individuals and placing a huge burden on our healthcare system and the wider economy.  
Healthy nutritious food is nearly three times more expensive than obesogenic unhealthy products, with more healthy foods costing an average of £8.51 for 1,000 calories compared to just £3.25 for 1,000 calories of less healthy foods. Between 2021 and 2022 healthier foods became even more expensive, increasing in price by an average of 5.1% compared with 2.5% for the least healthy foods.  
Excess weight costs the UK approximately £74 billion every year in direct NHS costs, lost workforce productivity and reduced life expectancy. It is one of the main factors in the 20-year gap in healthy life expectancy between the richest and poorest members of society. 
One in five households would have to spend almost half their disposable income on food to achieve the government-recommended healthy diet, leaving little money for energy and other household bills. By contrast, the wealthiest fifth of the population would need to spend just 11% of their disposable income.  
Sustainable alternative milks made from ingredients such as oats and soya, cost up to £1.79 per litre compared to £1 for cows' milk. They are 60% more expensive than dairy milk even though they on average create less than a third of the greenhouse gas emissions of dairy milk and use little more than half the water to produce. 
Sandwiches with plant-based fillings cost £3.25 on average compared with £3.00 for meat and £2.85 for fish. 
About a third (32%) of all food and soft drink advertising is still invested in promoting unhealthy foods compared with 1% spent on fruit and vegetable promotion. A further 39% is spent on brand advertising, much of which is associated with less healthy products. 
Fast food retailers gravitate to areas of poverty: 31% of food retailers in the most deprived areas are fast food outlets compared with 22% in the least deprived areas. As fast-food consumption is closely linked with increased risk of obesity, it is likely that this higher availability of fast food is a contributing factor to socio-economic health inequalities. 
Only one in four state schools in England is known to be meeting school food nutritional requirements, despite calls for the Government to mandate an accreditation scheme so that compliance with standards can be more regularly checked in all schools. Childhood is a critical time for development and suboptimal nutrition can have irreversible lifelong implications.  
Breakfast cereals and yogurts are foods that parents often give their children in the belief they are relatively healthy, but only 7% of breakfast cereals and 4% of yogurts marketed for children are low in sugar. Some breakfast cereals and yoghurts supply almost the entire recommended daily allowance (RDA) of sugar in one portion: Kellogg's Froot Loops Marshmallows 17.0g (89% of a 4–6-year-old's maximum recommended intake); Nestlé Smarties Vanilla Flavour Yogurt 16.5g (87% of a 4-6 year old's maximum recommended intake).     
Unless there is action to halt the upward trend, emissions from the food system will be four times higher by 2050 than the level needed for the UK to meet its net zero target.  
The Broken Plate report shows more clearly than ever, the need for regulation to create structural change in our food system if we are going to provide a healthy future for our population.  
Anna Taylor, Executive Director of The Food Foundation, said: "This report provides the strongest evidence to date of the worsening crisis affecting our food system and the health of the UK population. It is vital that the incoming prime minister takes urgent action to address the issues raised by the National Food Strategy with the development of a new plan for primary legislation."
Laura Sandys CBE, Chair of Trustees at The Food Foundation, said: "The nation's health is worse than it's been for generations and we're now suffering the double whammy of the COVID impact plus massive inflation. We need action on unsafe food (like we had on cigarettes) to protect the whole population. We cannot condemn the next generation to more stunted growth, diabetes or amputations."
Catherine Dennison, Welfare Programme Head at the Nuffield Foundation, said: "The cost of living crisis is putting additional pressure on families with low incomes who were already struggling to afford a healthy diet. The Broken Plate provides stark evidence of how dietary inequalities in the UK are impacting on people's health. We support The Food Foundation's call for a comprehensive policy and practice response from government and industry if we are to improve people's health and well-being, including for the youngest children in our society."
Dr Max Davie, Health Improvement Officer, Royal College of Paediatrics and Institute of Child Health, said: "As prices continue to rise nationally, there is an ever-growing nutritional gap between high and low-income families. Healthy foods are nearly three times more expensive than less healthy foods per calorie. We call on the Government to ensure that all members of our society, including the most vulnerable, have the means to access healthy affordable foods. We must act now to build a healthier and more sustainable future for our children." 
Dr Dolly Theis, of the MRC Epidemiology Unit & Centre for Diet and Activity Research (CEDAR) at Cambridge University, said: "This major Food Foundation report shows that our food system is completely broken. Unhealthy food is cheap, aggressively marketed and makes people sick. Although we have had almost 700 government obesity policies in England to date, very few have led to any action. The government must stop this cycle and ensure it implements all policy proposals, including those put forward in the latest obesity strategy published in 2020." 
Jo Hannan, Fusion21 Foundation Manager, said: "We hope this latest report will help to pave the way for positive change, making healthy eating accessible for all and benefiting individuals and families across the country."
The Broken Plate report is funded by the Nuffield Foundation and improvements to the methodology for assessing the 'Affordability of a Healthy Diet' metric have been made possible by the Fusion21 Foundation.
We are also grateful for the contribution of these collaborators: Eating Better, Action on Sugar, Nielsen, Resolution Foundation, CEDAR and Feat at the MRC Epidemiology Unit University of Cambridge, Food DB at the University of Oxford, Soil Association, and the London School of Hygiene and Tropical Medicine.
Available for Interview 
Anna Taylor, Executive Director of Food Foundation  
Shona Goudie, Project Lead, The Broken Plate 
Notes to Editor   
Please contact:  
Lois Rogers 07770 350822 / lois.rogers@foodfoundation.org.uk 
Jo Ralling – 07770 500858 / jo.ralling@foodfoundation.org.uk  
Social Media   
Twitter: @Food_Foundation 
#BrokenPlate2022
About The Food Foundation   
The Food Foundation is a charity working to influence food policy and business practice, shaping a sustainable food system which makes healthy diets affordable and accessible for all. We work in partnership with researchers, campaigners, community bodies, industry, investors, government and citizens to galvanise the UK's diverse agents of change, using surprising and inventive ideas to drive fundamental shifts in our food system. These efforts are based on the continual re-evaluation of opportunities for action, building and synthesising strong evidence, convening powerful coalitions, harnessing citizens' voices and delivering impactful communications.  
Registered Charity Number 1187611 
About The Broken Plate 
In February 2019, The Food Foundation published its first annual flagship report. The Broken Plate presented 10 vital signs revealing the health of our food system, its impact on our lives, and the remedies we must pursue. The first report showed that the UK's food system has led the country into a national health crisis, with children and households on low incomes suffering the severest health consequences. Each year The Food Foundation publishes a new edition of The Broken Plate, providing updated statistics for ten key metrics, new commentary on the direction of travel and proposals for change inspired by emerging evidence.