Press Release
28 July 2022
Government affirms £1.5 billion commitment to improve global nutrition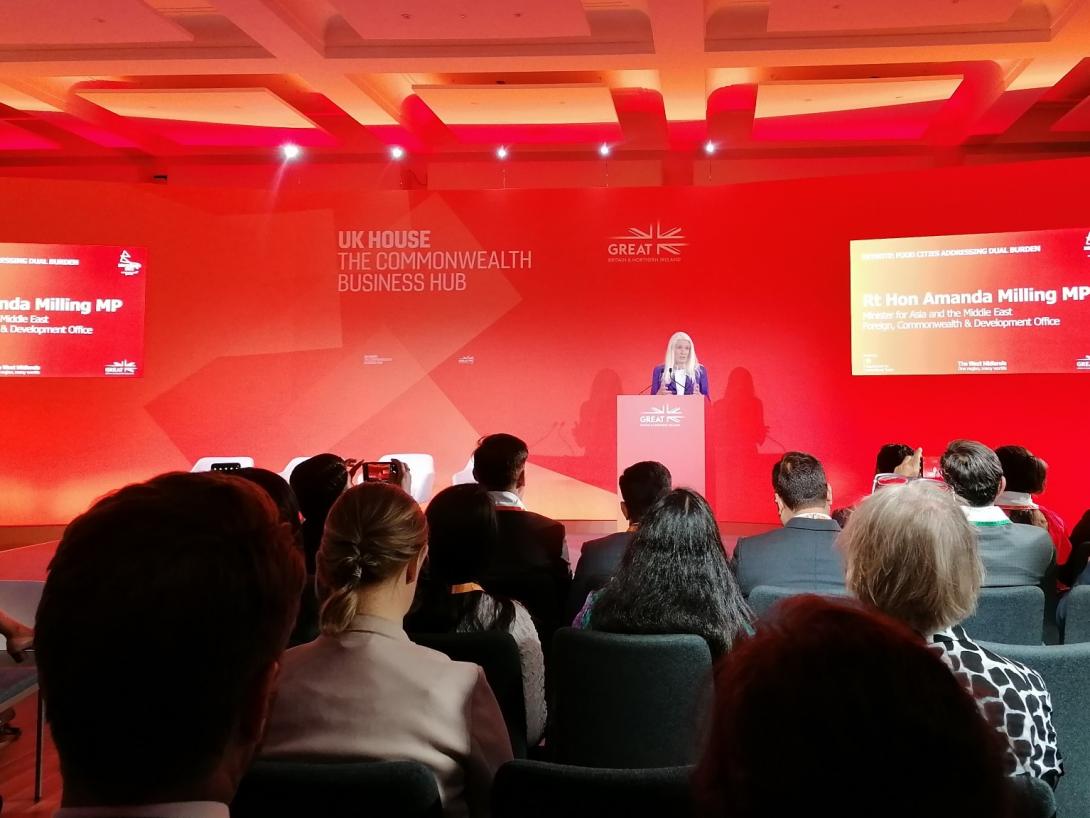 A £1.5 billion government funding commitment to improve global nutrition was affirmed at the Food Foundation's Food Futures 2022 conference taking place in Birmingham today alongside the Commonwealth Games.
Speaking to senior delegates from 20 Commonwealth countries, Foreign Commonwealth and Development Minister The Right Honorable Amanda Milling, said the funding would be put in place by 2030 to spend "at least £1.5bn on interventions to improve nutrition right across all of our aid work".
"There's no doubting the scale of the challenge' she said. We all want our people, societies and economies to fulfil their potential and to be able to cope with the shocks that life can present," she said.
"That's impossible when the spectre of malnutrition is stalking lives and snatching away opportunities.  
"We all want our children to benefit from decent education, for our families to enjoy good health and better income and for our economies to thrive and that's not going to happen unless there's a bedrock of good nutrition.  
"In high income countries obesity and diet-related disease and food bank use have rocketed over recent decades. 
"Many in low and middle income countries are also facing rising rates of obesity, yet this is coupled with persistently high rates of undernutrition which contributes to almost half of all deaths of children under five.  
"Up to 8 in 10 children in these countries are maybe living on staples like maize or rice without access to fruit, vegetables and other nutritious food.
"This is an awful situation, and it has been intensified by the triple whammy of Covid-19, climate change and conflicts, including Putin's illegal invasion of Ukraine.
"We must make nutrition an integral part of our development, health, economic and environmental strategies,' she said. This is the only way we can respond to the current crisis of Covid-19, climate change and conflict.
"Lives and livelihoods are being shattered and the need for action is absolutely clear. It's in the face of these challenges that we must strengthen our resolve and step up our commitment."
The Minister was speaking to a line-up of distinguished speakers from 20 cities including Dr David Nabarro, co-leader of the UN Global Crisis Response Group, who spelled out the critical need for food policy to be included in mainstream urban planning.
"The world's food systems touch every aspect of human existence and are vital as potential instruments of change," he said.
"A concerted science-based effort is required to ensure that food is good for people, for nature, the environment and for the climate."
The day of discussions co-ordinated by The Food Foundation, was focusing on how city food policies across the Indian subcontinent and Africa are addressing the climate crisis, dysfunctional food systems and the dual burden of obesity and undernutrition.
Anna Taylor, Executive Director of The Food Foundation, was delighted by confirmation of the funding, saying: "It is fantastic to see the UK Government is continuing to take the lead in their commitments to end malnutrition.
"Today we're talking about the vital role which cities can play to help their citizens get access to nutritious food which protects their health." 
The Foreign Commonwealth and Development Office is funding the Food Cities 2022 initiative alongside Birmingham City Council, which has partnered the Food Foundation in developing policies to transform city food systems.
Birmingham also took a leading role in the day's event, showcasing the Birmingham Food Revolution and the city's commitment to collaborating with innovative food system solutions across the world, with a series of events including the signing of the Birmingham Food Justice Pledge, a commitment by global city leaders to ensure that all citizens irrespective of status are entitled to safe, nutritious, and sustainable food.  
The event was being hosted at UK House: The Commonwealth Business Hub, a platform for bringing together businesses and governments to identify opportunities for international partnership and innovations for sustainable growth. A partnership between the Department for International Trade and the West Midlands Growth Company, it harnesses the cooperative spirit of the Commonwealth Games for economic benefit and builds on the UK's climate leadership at COP26.