Press Release
29 July 2022
Global cities sign Birmingham food justice pledge at city's first food futures conference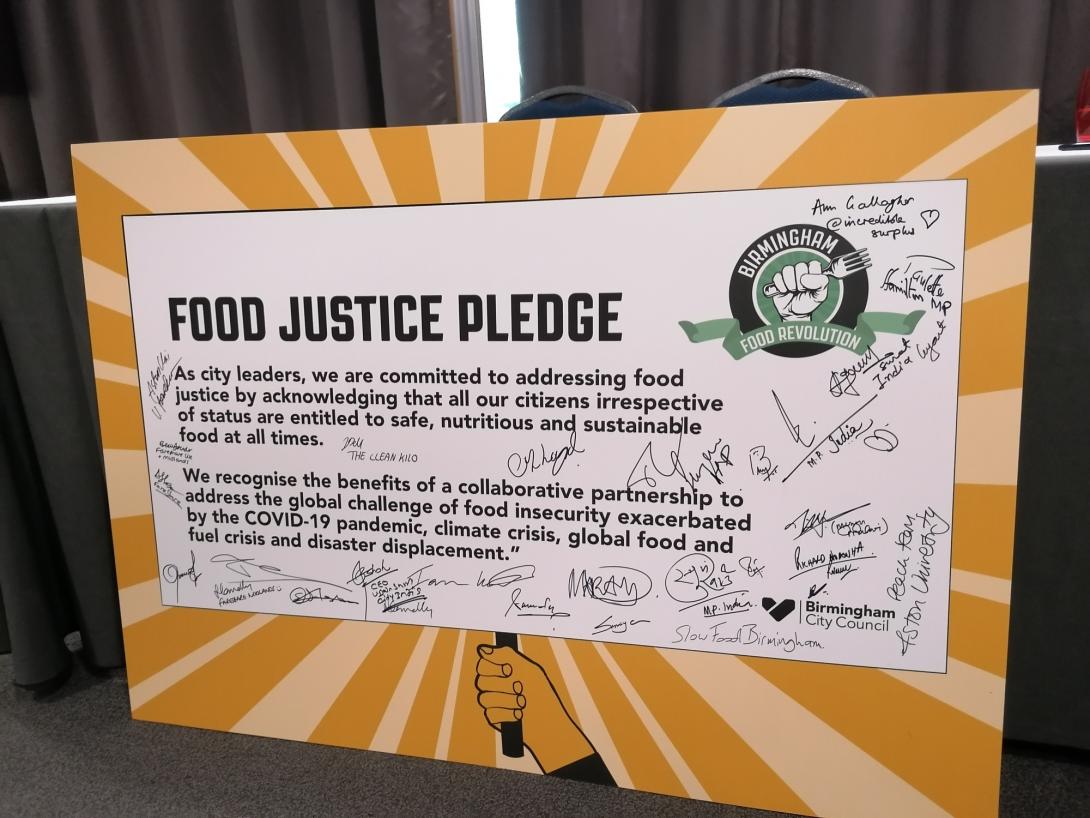 Thirty people have now signed the Birmingham Food Justice Pledge, a formal commitment ensuring all citizens - irrespective of status - are entitled to safe, nutritious, and sustainable food. 
The document aims to give political weight into the voices of world cities by emphasising the need for local, national, and international policies to create and support an affordable, nutritious, and sustainable food system for all. 
It comes as leaders from around world acknowledge the need to collaborate to address the global challenges of food insecurity worsened by the Covid-19 pandemic, the war in Ukraine and the combined crises of climate change, population displacement and soaring costs of food and fuel. 
The signatories committing to action included top officials from Birmingham, plus cities in India, South Africa and Malawi.
The pledge states: "As city mayors, we are committed to addressing food justice by acknowledging that all our citizens irrespective of status are entitled to safe and nutritious food at all times. 

"We recognise the benefits of a collaborative partnership to address the global challenge of food insecurity exacerbated by the COVID-19 pandemic, climate crisis, and disaster displacement." 
City leaders signed the pledge as part of a Commonwealth Food Futures 2022 event staged at The Birmingham Repertory Theatre as part of a growing collaboration with city leaders across the globe to secure food justice, which means access to nutritious affordable food for everyone.  
Dr Justin Varney, director of public health at Birmingham City Council, said: "Whether you are a city that is saturated by fast food or a city in a food desert.
"Food security is now an issue for every citizen across the world and that's why this pledge is really important. Food justice is a global issue for us all now, whether you are a high- or low-income country."
Anna Taylor, Executive Director of The Food Foundation, said: "This pledge represents a major step forward in the recognition of a worsening global problem. We are delighted to see so many cities involved."
Media contacts:
Lois Rogers The Food Foundation 07770 350822       [email protected] 
Ayola Beckford Birmingham City Council 07730 449620   [email protected] 
About the Food Foundation 
The Food Foundation is a charity working to influence food policy and business practice, shaping a sustainable food system which makes healthy diets affordable and accessible for all. We work in partnership with researchers, campaigners, community bodies, industry, investors, government and citizens to galvanise the UK's diverse agents of change, using surprising and inventive ideas to drive fundamental shifts in our food system. These efforts are based on the continual re-evaluation of opportunities for action, building and synthesising strong evidence, convening powerful coalitions, harnessing citizens' voices and delivering impactful communications.    
Registered Charity Number 1187611
The Birmingham 2022 Commonwealth Games will be the biggest sporting and cultural event to be staged in the UK for a decade, and it will be the largest event ever held in the West Midlands region. Source: BATP.  In July 2022, Birmingham is host the XXII Commonwealth Games, the largest multi-sport event to be held in England for a decade. Approximately 6,500 athletes and team officials from 72 nations and territories across the Commonwealth will come together in a 12-day celebration of sport and culture. Events will take place across Birmingham and the West Midlands, entertaining more than one million ticketed spectators and reaching a global broadcast audience of more than one billion.