rgb(140,198,63)
News
01 June 2022
Spotlight on Lidl GB: turning targets for increasing veg consumption into tangibles
By Chloe MacKean, Business Engagement Manager
Lidl GB is undergoing a rapid period of growth. Having only opened their first store in Great Britain in 1994, sales have been growing nearly 10% year on year, and they're opening on average one new store a week. Their current success has meant they've now overtaken The Co-op as 6th largest food retailer in the UK. They've also built a strong rep for being the place to go for affordable quality fruit and veg, currently just pipping Waitrose to the post by selling the most fruit and veg in proportion to the total shop than any other retailer.
Last July the supermarket announced its ambitious target to increase their sales of fruit and veg by 35% by 2026, a target that we at The Food Foundation wholly welcomed. Out of our many Peas Please 'pledgers' (businesses who make pledges to help increase veg consumptions across the UK), only Lidl, along with Sainsbury's and Aldi, have set targets and report back on the sales of veg.
As we all know, setting targets is one thing, but achieving them is a whole new kettle of fish. I caught up with Mark Newbold, Senior CSR Manager at Lidl GB, to understand what the challenges and successes have been in getting more fruit and veg into people's baskets.
Now you have set this target, what are the different methods you're using to implement them?
The biggest shift happened before we set our target when, we flipped our store layout round to put fruit and veg at the front of the store a number of years back and more recently, as part of a major investment programme called 'Get Fresh', Fresh' we built on that drive for more prominence across those fresh categories. More recently, as part of the same project, we have invested heavily in fresh produce and have increased our fruit and veg range as well as other fresh categories. We've been able to achieve this through our store investment, by doubling shelving and including more chillers so that we can stock more fresh produce.
Our Peas Please pledge not only includes our target to increase sales of fruit and veg, but also commits to increasing our advertising of low priced veg through a range of paid for channels including in-store point of sale, website, newsletter, social media, leaflets and press ads. We spent more on advertising fruit and veg last year than in any other year.
A big part of our advertising has been through our 'Pick Of The Week' promotions, where we reduce the price of six different items each week. These additional discounts have been a really helpful way for customers to access even more fruit and veg, with results showing a significant increase in sales of the selected products.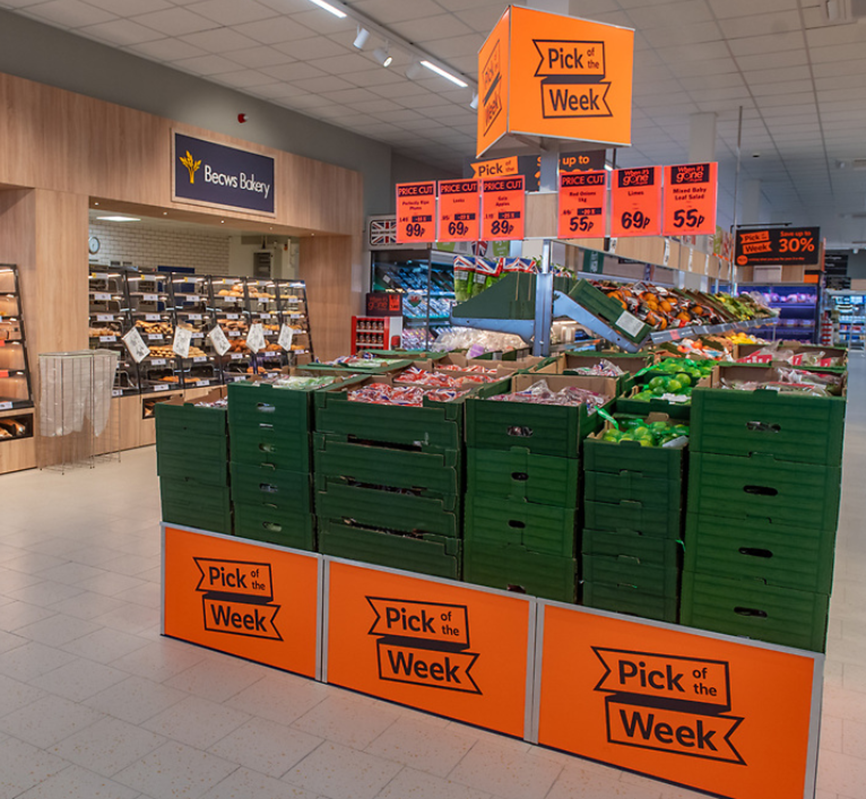 How is it going so far, are you on track for reaching the target?
We communicated our target in July 2021, with a baseline of FY 2021 so it's still too early to track progress against this target.  However, we will be publishing annual updates and F&V sales on our website.
Are there additional mechanisms in place to make sure that the targets that have been set are going to be achieved? E.g. internal accountability for the targets
Lidl is quite unique in that our CEO has strategic overview and direct responsibility for CSR. This means that the work we are doing around sustainability and healthy eating is well positioned internally and remains high on the business agenda.
We report on our fruit and veg sales targets annually on our website and in our sustainability report. We pride ourselves on having high levels of transparency across all areas of CSR as we understand that this is the foundation of accountability.
​Mark won the 'pledger champion' prize at this year's Peas Please conference.
What have been the major barriers so far to increasing sales of F&V?
As the cost of living increases it's having a direct impact on the public's food buying behaviours and habits and you could expect this to include their consumption of fruit and veg.  Over the next few years this is likely to have an impact on their purchasing priorities so it's more important than ever to look at opportunities to ensure fruit and veg remains accessible to all households.
Despite the methods I've already mentioned around placement, promotions and pricing, it's important to highlight that overall, the industry is still developing when it comes to the healthy eating agenda. Further research, collaboration and information is needed from industry, government and academia about what specific techniques actually provide success in helping customers make healthier choices. That's why we are working with the University of Leeds and University of Birmingham to better understand the impact of various interventions we made recently to shape our strategy moving forward.