What we delivered
We had a total of 120 young people (and a few chaperones) aged between 14-25 attending Valley Fest, coming from many different young organisations including Children's Right2Food, BiteBack 2030, Magic Breakfast, Flame, Scouts, Vegan Organic Network, WWF and individual young people who were part of the youth consultation for the National Food Strategy.  
We ran a really exciting youth programme across the two days that the young people took part in.  
We created an #Act4Food #Act4Change exhibition where people could learn about the issues affecting our global food system and the campaign itself. People had a chance to vote on their top Actions 4 Change and make a pledge in our pledge forest.  
Some of the highlights included: 
A question-time style National Food Strategy debate with panelists Labour MP Kerry McCarthy and EFRA Chair Neil Parish taking questions from the floor on what the priorities and opportunities are now for following through on the recommendations.
What it means to be an activist: CR2F Ambassador Dev joined other inspiring young people like Bird Girl and Kids Against Plastic on stage to offer inspiration on how to make youth voice a powerful tool for change, hosted by Chef and Activist Arthur Potts Dawson.  
A global session where some of the Act4Food Act4Change youth leaders from India, Nicaragua, Kenya and Lebanon spoke (via Zoom link) about some of the food system challenges in their country. This was followed by an interactive workshop on the Actions 4 Change where the young people swapped ideas about how they could implement the Actions 4 Change in their own communities and nationally.  
An inspiring session on Artivism led by a visual artist, poet and musician who all shared their experience of using their art to motivate, inspire and drive change. The Youth Advocates took part in writing their own speeches and poems, putting activism into song and making banners and placards that represented their cause.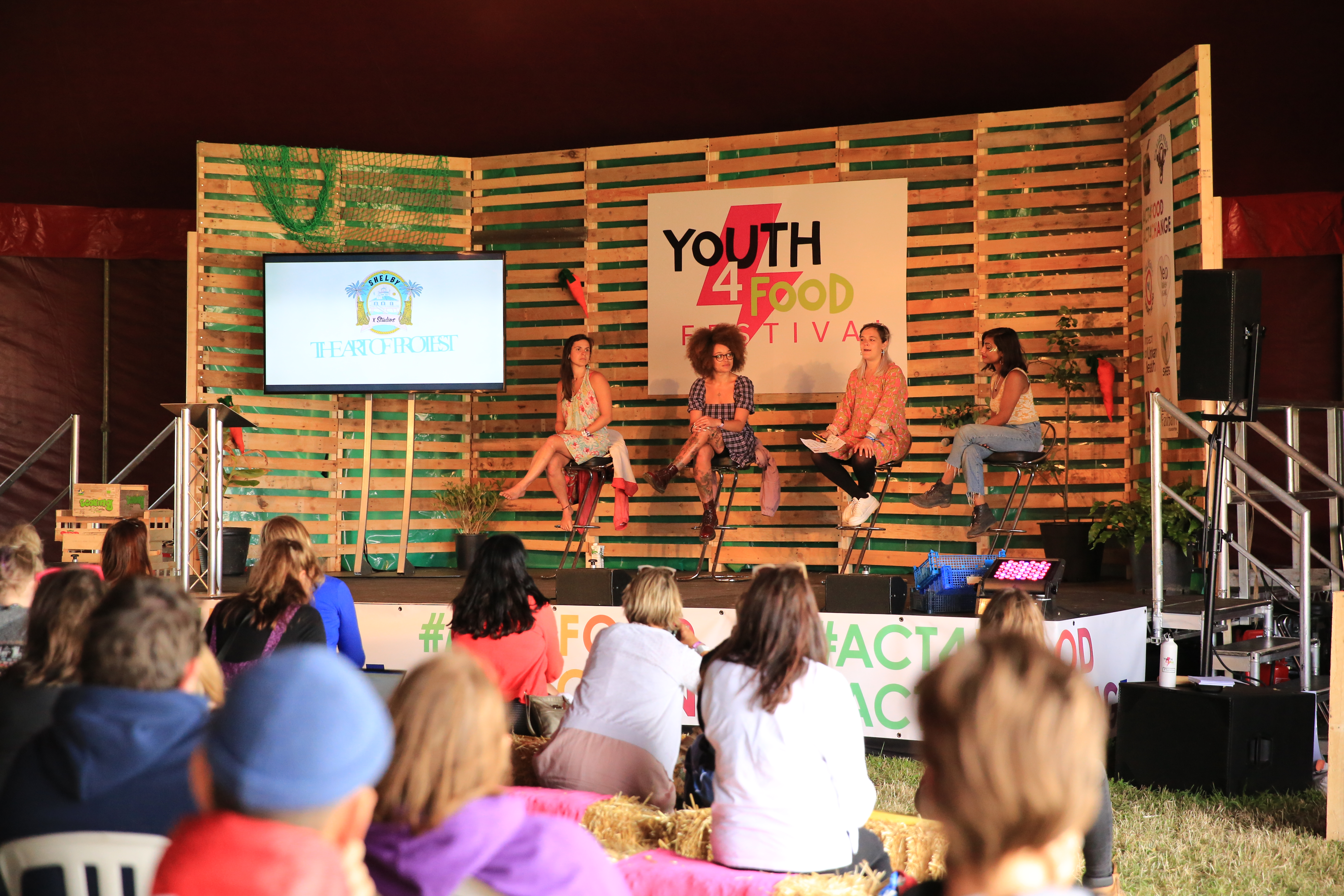 All these elements came together at our Good Food March in the afternoon in which the young people proudly held their placards high, banged their marching instruments and strode across the festival demanding attention from the crowds chanting "Act for food, act for Change!" and "What do we want? End food inequality. When do we want it? Now!!" 
A hard-hitting session on food waste and equality, discussing the thorny issue of whether food redistribution an equality solution or threat in the context of growing food poverty and reliance on food banks. CR2F Ambassadors Shane Robinson, from Northern Ireland, and Fayeth Jones, from Wales, spoke about their own experiences of food banks and surplus donations, alongside inspiring speakers like Dee Woods and Jyoti Fernandez.   
The event was an amazing opportunity for young people to learn from each other about different aspect of the food system, from food poverty to farming. Especially after 18 months of isolation and Covid restrictions, feedback from the young people confirms it was an important moment in building confidence and making the young people realise both their individual and collective power as activists.  
At the closing session at the end of the weekend, where we were able to hear directly from the young people about their experiences. We had some amazing young people talk about what they learnt and had been inspired by.  
 
"I learnt so much about the food system – It's so important to know there is so much more to be done about biodiversity"
Zoe, Biteback 
 
"I've learnt how supermarkets play such a big role – why are we buying things internationally and adding to food insecurity and deprivation, when we can buy good food locally."
Rabiya, Children's Right2Food Ambassador  
"I want to be a politician. I think hearing from everyone this weekend makes me realise we need a food revolution. I'd never considered farming as an issue, but now I understand how it all links together."
Grace, Magic Breakfast 
"I'm really grateful to come here and have this opportunity. I would never have been able to have come to a festival like this. I can't wait now to see what we can achieve in the future and I can't wait to go back to my region to start tackling food poverty."
Felix, Children's Right2Food Ambassador
"Having so many different groups – not that similar in their aims, but part of the same food system, it's been really interesting hearing from different people's perspectives about their activism. It demonstrates there is hope for the future."
Holly, Flame  
Watch clips of the event below
Activism:
National Food Strategy Debate:
Food Poverty March: